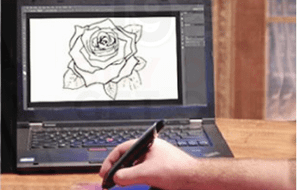 If you're like many people out there that work on a computer all day long, you know it can be hard on the wrist using the mouse on repetitive basis. There is a new product on the market called the Pocket Mouse and it has been designed to make using your computer much easier.
Overview
The Pocket Mouse is a great little invention that works like a mouse, but looks like a pen. It not only takes the place of the regular mouse you use for your desktop, it can also be used for your laptop as well as your tablet. It uses wireless optical technology that replicates your hand movements and it allows you to accurately work on any type of surface.
The Claim
The claim of the Pocket Mouse is with its specially designed built-in wireless technology, you'll be able to use your pocket mouse from a distance of up to 30 feet away, and you'll be able to replicate any action that you would normally use your mouse for, with pinpoint accuracy.
The Hype
Aside from its unique pen shape design, the Pocket Mouse works as a wireless mouse, as well as a stylus for your phone or tablet. It allows you smooth movement and excellent control, with truly pinpoint accuracy, and because of its ergonomic design, it is a great item for people that suffer from arthritis and wrist pain. It is simple to use, as all you have to do is plug in the receiver into the USB Port, and the Pocket Mouse will be ready to use.
The Cost
The best price right now for the Pocket Mouse is $19.99, but if you go to the Pocket Mouse website, you can actually take advantage of a two for one offer for the same price, as long as you pay the extra shipping.
The Commitment
The commitment with this product is that you'll receive your Pocket wireless optical Mouse, the USB receiver, a bonus desktop stand as well as operating instructions. There's no extra software needed to get this product working, and you will find that it will be much easier on your hands and wrist than a normal mouse would ever be.
Evaluation
After evaluating the Pocket Mouse we have found that, especially if you use your mouse quite a bit throughout the day, then this item might be something you want to try out. The fact that there's no software to install and you simply just have to plug the receiver into the USB Port, and it also has better control and more accuracy, are a few reasons why it might be worth the money for you to check it out.
Final Pocket Mouse Review
It seems like the Pocket Mouse would come in quite handy at the business level, or even just for personal use. We like the fact it can be used on almost every surface allowing you to click, write, scroll or swipe with ease and pinpoint accuracy every time. It feels better in the hand than a regular mouse does, and because of its ergonomic design, it will help to prevent wrist pain and discomfort no matter how long you use it.
Our Recommendation
If you want to see another type of mouse that many like then check out the Ion Wireless Air Mouse.
What do you think? Does the Pocket Mouse work or not?