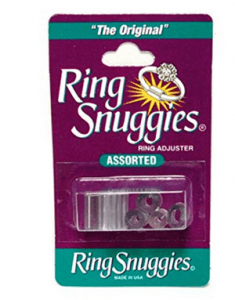 One very important and favourite gift that many people buy is jewellery and rings in particular. One of the big problems that come with this is getting the right size. Perhaps there is a solution for this which is Ring Snuggies.
Overview
Ring Snuggies are a package of ring sizers that come in different sizes that can be used for a variety of purposes. The product is comprised of six different sizes made of quality clear plastic.
The Claim
The promoters of Ring Snuggies are claiming that this product is the solution for adjusting rings to fit that are otherwise too lose or the wrong size. Some people call them spacers and others call them ring adjusters. They are claiming that these ring sizers may be a better alternative to having the ring cut to make it fit.
The Hype
The hype around Ring Snuggies is that they may be ideal for those who own rings but cannot wear them because of their fit is too loose. They are reluctant to have the ring cut. Or, they may not want to go to the expense of this. Then this product may be a good alternative.
The Cost
One really cannot go wrong with at least giving the Ring Snuggies a try as they are so inexpensive. They can be purchased for $4.44.which includes six different adjuster sizes.
The Commitment
The commitment will be getting used to wearing the Ring Snuggies. Although they are very light, it may take a little getting used to wearing them. Also, remembering to use them is another issue. But when a ring is too large, it is immediately noticeable so that should be an instant reminder.
Evaluation
There is a need for a product such as Ring Snuggies although it only addresses the problem of rings that are too big. But this can be a common problem. Often people buy faux jewellery like rings as an inexpensive gift, and the ring is too large. It may not be suitable for cutting, so the next best thing is using a sizer like Ring Snuggies. There are a lot of people who are on weight loss programs and soon discover as they lose weight their rings become too big. The Ring Snuggies may work as an interim solution. Then once the individual has levelled off with their weight, they can then consider the option of having the ring re-sized by a jeweller. Another great use for Ring Snuggies is that they can be used as a resource for joining two rings together. Many people like to wear double rings on one finger but have difficulty keeping them positioned correctly.
Final Ring Snuggies Review
With the number of reviews that have been provided about Ring Snuggies, there is no doubt that there is a lot of interest in a product like this. However, out of 2,576 reviews, the product has only received a 2.9 out of 5-star rating. This is understandable as ring sizing is a very personalized endeavour. One product is not going to suit all with this issue. We are prepared to give Ring Snuggies a try/buy rating. It is inexpensive so it may be a cheaper solution to try first.
Our Recommendation
Another very common product that comes with jewelry including rings is keeping it clean. A solution for this may be Jewelry Magic.
What do you think? Does Ring Snuggies work or not?