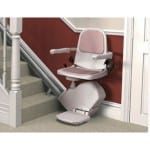 As baby boomers continue to age, products like Acorn Stairlifts will become more and more popular. Aging people and those with handicaps find it hard to move from place to place. And if there are staircases in the house, it becomes particularly difficult to move around.
This problem is rectified by the invention of stairlifts and chair-lift devices. Through this modern technology, aging and handicapped people can easily get upstairs or downstairs without exerting any effort at all.
Overview
The Acorn Company made its own version of chair-lifts called Stairlifts. The device aims to provide a solution to the problem of going up and down the stairs. People who use canes particularly find it hard to use the stairs, and this alternative provides for a great solution. The units can be operated by a remote control and these stairlift chairs can also be fitted to any type of staircase.
The Claim
Acorn Stairlifts claim that their product is safe and comfortable in transporting a person from the bottom of the stairs to the top of the stairs and vice versa. The device is installed by Acorn professionals to make sure that all the specifications and requirements are strictly followed. This guarantees safety as well as efficiency of the unit. And once installed, the company claims that all rides will be gentle and smooth.
The Hype
Acorn Stairlifts provide a safer environment for loved ones who are handicapped and aging. Who wouldn't want to have their own personal elevator at home? This can take a person upstairs or downstairs conveniently and safely in order to have better mobility around the house.
The Cost
There are different models of Acorn Stairlifts. You can get a simple one for about $2,000 and there are also more full-featured models that cost around $4,000. The prices of these Stairlifts include a 1 year warranty from defects and workmanship.
The Commitment
Should you decide to purchase Acorn Stairlifts, you should allow the company to install it for you. Once you call Acorn, a representative will be sent to your house to look at the type of stairs in your house. They will measure your staircase to come up with a detailed plan as to the railings and adjustments that are applicable to your particular staircase.
No matter what type of stairs you may have, the Acorn staff will find a way to incorporate the particular model of chair-lift you choose to the structure of your stairs. The Stairlift is then operational as soon as it is installed.
Evaluation
The concept behind the Stairlift product is commendable, as it is indeed helpful to handicapped and aging members of the family. The chair is also foldable in a compact form, so it doesn't have to take up too much space on the staircase when not in use.
It also helps that there are 2 remote control units included in the package, one remote control can be left downstairs and another unit can be placed upstairs. This way, every member of the family will have quick access to the device.
Final Review of Acorn Stairlifts
Yes, the Acorn Stairlifts really work as advertised. It has a smooth start and stop and the ride in between can be considered comfortable too. However, there are some complaints from consumers about the quality of the product. For a $3,000 to $4,000 unit you surely expect a high quality item that can last for years.
But some customers have complained that the system breaks down within the year and the Acorn Company doesn't seem to honor the 1 year warranty that came with the product.
Our Recommendation
The Acorn Stairlifts are worth considering because the concept behind this system is useful and helpful as well. However, be wary of the quality of the units offered by the company and don't be too sure about their warranty either. We suggest that you also look into other similar products that carry the same features and functionality, at a lower cost or higher reliability.
It would really help a lot if you have this type of machinery in your house, so that all your family members can go upstairs and downstairs as much as they want to, without being exposed to the dangers of falling and slipping. Just make sure that you compare prices and warranty information about different brands before making your final choice.
What do you think? Do Acorn Stairlifts work or not?