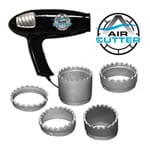 Getting a hair cut can be quite expensive especially if you have a large family, and Air Cutter hopes to heop you cut down on these costs.. Your expenses can literally total a thousand dollars each year without you even noticing it.
With the introduction of home kits that allow you to cut hair like a professional hairstylist at home, you are presented with an economical alternative to going to barber shops and salons every month.
Overview
The Air Cutter is a tool that lets you cut hair like a professional. It looks like a typical hairdryer, but it functions much differently. Instead of blowing out air, it sucks hair up like a vacuum. There are spinning blades inside the Air Cutter, and these will cut the hair strands sucked up by unit on contact.
The Claim
The Air Cutter claims that you can give professional-looking hair cuts to family members through the simple use of the device. And because it is reasonably priced, it can pay for itself with just one use. The unit is very simple to operate too, so there really is no chance to make any mistakes when cutting hair.
The Hype
Haircuts can really be expensive when you add them up. You may not notice it, but if every member of your family spends $40 to $50 a month to get their haircuts done in salons and barber shops, the expenses can really add up throughout the year. That's why economical gadgets like Air Cutter are met with enthusiasm by the masses as the concept seems both useful and cost-effective.
The Cost
You can try the Air Cutter home styling system for free for 30 days, and you just need to pay $15 for shipping and handling. Should you decide to purchase the product after 30 days, you just need to send for 2 additional payments of $30 each and the Air Cutter is yours. The package includes the Air Cutter system, a styling guide, and an instructional manual. And the whole system comes with a full 90-day money back guarantee too.
The Commitment
If you follow the instructions on the user manual, you can't go wrong when using the product. The unit is equipped with "even-cutting" technology so all you really need to do is run the unit up and down the areas that need to be cut. You can also adjust the length of hair that you want to cut, as there are different attachments that can be used for the unit for this purpose. And although you can use the device on yourself, more accurate results can be achieved if another person will do the job for you.
Evaluation
The Air Cutter works as advertised, but don't expect it to handle all the hair cutting needs of your family. Although the system can work well for short hair types of hair, it is not that usable for trimming long hair. There are also mixed reviews of the product, some find the unit very functional and effective especially when used on clean and blow dried hair.
But for others, this hair cutting system appears to be too weak to pull up hair strands for more precise cuts. And there are also opinions that the unit seems to be made of poor quality materials, and could therefore easily break when not handled properly.
Final Review of Air Cutter
Technically, yes, the Air Cutter really works and it can really produce professional-looking haircuts. However, it is more useful in trimming short hair than long hair styles of hair cuts. In fact, even the examples shown in the videos of the product only made use of models with short-length hair. The unit is therefore useful for some members of the family only, and you can't expect it to cover for all your haircut expenses.
Our Recommendation
We recommend that you give the Air Cutter a try for 30 days. Since you will only need to pay for shipping and handling, you will only lose $15 should you decide to return it. And if you find that the unit can be useful for your family, you can decide to purchase it in its full price of $60. The amount you pay for this home styling system can pay for itself with just 1 to 2 uses, and that makes the unit very practical.
What do you think? Does Air Cutter work or not?