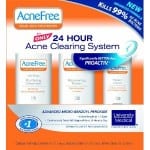 Most of the time, people are judged by their appearance, and AcneFree is aimed at improving it. Because of this, great efforts are always exerted in looking good all the time. As the condition of the skin is one of the first things noticed in a person, more care and pampering is put on this area of the body, especially the face.
Not all people are blessed with flawless skin. There are more people who are suffering from pimples, breakouts, and acne problems. While there are those who respond quickly to over-the-counter medications, there are also those who seem to be unlucky with acne treatments in general. And that's where products like AcneFree come in.
Overview
AcneFree products come in many different forms. You can get the cleanser, ointment, lotion, toner, or a full kit with 3-step foam system. All these products can be tolerated even by people with sensitive skin. And you can use any of these acne medications whether you have mild or severe cases of acne problem.
The Claim
AcneFree claims that it can fight acne and the causes of acne 24/7 through regular use of the products. Through the continued release of the component called Benzoyl Peroxide, bacteria on the skin are killed almost instantly. And if the presence of bacteria is eliminated, you will have flawless and clear skin all the time.
The Hype
Skin care products, especially those that deal with acne treatment, are always very popular. This skin condition affects people of all ages, as there are a lot of factors that can contribute to this condition: harsh weather, stress, genetics, etc. And since AcneFree is advertised as a safe and effective product, most consumers are eager to try it.
The Cost
AcneFree products have varying prices. You can get the 3-step system foam kit for about $20 and this kit will already contain a cleanser, a moisturizer, and a toner. You can also get a 3-piece pack of cleanser for about $17. If you prefer using an ointment, the tube ointment will cost you around $15 (3 pieces). And if you want to get the repair lotion, a 3-piece pack is priced at about $25.
The Commitment
In order to make the AcneFree products work, you should strictly follow the instructions included on the particular medication that you choose. For best results, you should apply skin medications and lotions only on clean skin. This will allow the active ingredients of the medication to be effectively absorbed by the skin.
When applying ointments, creams, and toners on the facial area, you should also make it a point to use gentle strokes. The face is comprised of sensitive tissues and these can be easily damaged if you rub too harshly.
Evaluation
AcneFree disclosed the full contents of their products, and this makes their offering more believable and trustworthy. Its main ingredient is Benzoyl Oxide, and this component can instantly kill bacteria on contact. The Salicylic component is important too, as it induces natural skin exfoliation.
The sulfur ingredients are anti-inflammatory, so it can reduce the redness associated with pimples and breakouts. It is also good that AcneFree contains Retinol, as this can aid in producing soft and pliable skin.
Final Review of AcneFree
There is sufficient evidence that the AcneFree products really work. The major ingredients used in the product are typically used in acne treatment solutions, and these are all deemed effective in fighting acne-causing germs. A lot of consumers have testified to the effectiveness of the product, but gradual improvements and not quick results are mostly observed.
And there are also reported cases that the products don't seem to work. According to some consumers, they even experienced allergic reactions from using these products.
Our Recommendation
Because the positive results of using AcneFree far outweigh the negative comments about this product, we recommend trying it. The AcneFree line of skin care treatment offers different types of products that are affordable, and it can possibly give you the result that you are looking for in an acne treatment solution. We only suggest that you test the particular product that you choose on a small patch of your skin first, in order to find out if you are allergic to it or not.
Read user reviews on AcneFree
What do you think? Does AcneFree work or not?