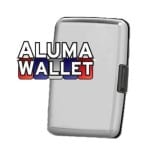 Can the Aluma Wallet really replace your old wallet? Money is indeed highly important and an extreme necessity in our daily lives. That is why we always carry it with us, along with other stuff like pictures and credit cards and business cards. So we do need every precaution to keep these things safe from all the accidents and occurrences that might endanger our money and other stuff in our wallets.
Overview
Having a durable and good wallet is really not as easy as it sounds. There are many kinds of televised products that claim they are durable and will last for a really long time, but actually they do not. As we move into a more technological time, more and more concerns about identity theft crop up, and so you may not have thought about it before but it might be high time to replace your old leather wallet.
The Claim
Some of the features of this wallet that many of the other wallets do not have are that it is waterproof, thus making your valuables inside the wallet, which you also accidentally sent inside the washer, safe and dry. In addition, it can protect your wallet not only from water but also from dirt and dust.
Also, it secures you from RFID readers, protecting you from losing your identity. And it can also help you in shielding your cards from magnetic strips or from any electromagnetic fields and moisture. Plus, it is made of die-cast aluminum, which makes it nearly unbreakable and indestructible. Not only that, it is also slim which makes it easy for everyone to carry and making it easy to fit into any pocket or purse.
The Hype
For those have not yet tried or heard of Aluma Wallet, you might be a little skeptical and think that this is just like the other products that have really good advertising, but the actual product is not all its cracked up to be. For the skeptics, you might ask does the Aluma Wallet actually work or has it just been hyped up? According to those who have used it, they have not yet encountered any problems with it, and it has been serving them well so far.
If you are the type of person who would often forget your wallet in your pants and then accidentally put it in the washing machine and dryer causing some of the most important papers or cards or money inside your wallet to be destroyed, then this type of wallet is perfect for you. It says that it's water resistant so it might not protect it fully, but it will be a lot better off than a leather wallet.
The Cost
You can get an Aluma Wallet for less than $10 from Amazon. This will help you avoid ordering from the main site, where they will try to upsell you with an 2 for 1 offer, tacking on an additional shipping fee which they most assuredly make a profit on.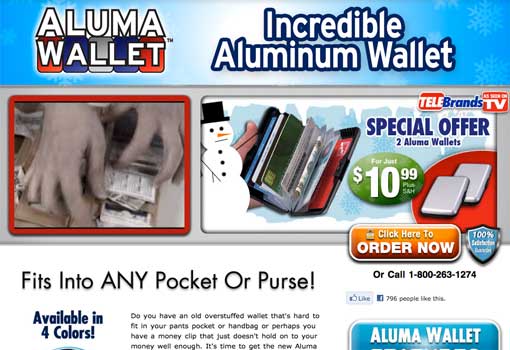 Features and Selling Points
The Aluma Wallet is not only durable and water resistant it can also be stylish if you want, as it comes in several different colors. The Aluma Wallet is pitched at both men and women, and it is shown to present you with all of your cards at once so you can easily find what you're looking for.
In the ad they show it being able to carry business cards, receipts, credit cards, money keys and such because of its multi-layered accordion design. However, users testing it out said that there is no way that you can possibly fit all of that into the Aluma Wallet, and there is no way you can convert the large wallet full of miscellaneous contents into it and hope to get it closed.
Evaluation
They got many of the features of this wallet right. It's no doubt lightweight and like a turtle shell for all of your important cards and cash, but the problem is that for the closing one-touch clasp and hinges they went with low-grade materials and craftsmanship, which makes the actual daily use of this wallet impractical. It will either break on you within the first few times of use, or you will not be able to fit everything into it that you need to, and that is depicted in the commercial.
Final Aluma Wallet Review
In their advertisement, the makers of Aluma Wallet cite other wallets that sell for around $50-$60. You should invest in those instead. In this regard, you get what you pay for and they are producing nothing more than a cheap knock off. If they would have spent just a little more in the production processed, and used sturdy plastic for the hinges and locking mechanism, they might have had a winner on their hands.
Go with the other wallets alluded to in this ad:

Instead they went the way of profit above all else and have produced a shoddy product that will not stand the test of time and long term earnings.
Our Recommendation
Going back to its features, there are so many that it is really tempting to go online and buy one. But even though it may be made of aluminum, and would protect its contents from getting scanned, and all of the other features it claims, the unfortunate part is that it doesn't stay closed, even with only a few things in it, and the parts that aren't made out of aluminum, namely the clasp that keeps it closed, breaks easily. Pass on this one.
What do you think? Does the Aluma Wallet work or not?