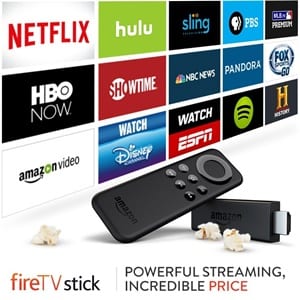 If you are looking for a way to really enhance your T.V. viewing then you may want to consider the Amazon Fire T.V. Stick. Not only will you get extra channels but you may have a whole new resource for some game playing. It definitely might be a device that the whole family can take advantage of.
Overview
The Amazon Fire T.V Stick is a device used in place of a cable connection to connect to a wide variety of television stations and web content through your t.v.
The Claim
The claim is that by using the Amazon Fire T.V Stick you are able to access over 4000 channels as well as favorites like Netflix and HBO without having to pay the cost of a cable connection.
The Hype
The hype is realized by the fact the many consumers are getting tired of paying very large bills to their cable companies for content that can be accessed in a variety of new and technologically advanced ways. Others are tired of paying the same bills for only a small portion of content they are truly interested in and find the bulk to be mere filler that they could do without. By using the Amazon Fire T.V Stick you can choose what you want to access and completely ignore the rest without having to pay for it.
The Cost
The cost of the Amazon Fire T.V Stick is mere $34.99 at, or course, Amazon.com. You can upgrade you Remote control to a voice activated one for an additional $10.00
The Commitment
The commitment required is really pretty minimal. You simply plug the unit into your TV using the HDMI adapter and then connect to your internet wirelessly and you are all set to stream an endless variety of content.
Evaluation
While there are many products similar to the Amazon Fire T.V. Stick on the market today, this one because of its affiliation with Amazon has some pretty cool features attached to it. Some of the content that you are able to connect to is directly or indirectly associated with Amazon and you may not be able to access it with other similar versions. The fact that you can either enhance your cable experience with the Stick or choose to be completely cable free and cut the cord is a great option for many who are sick of the filler content that you end up paying for with most cable plans. With the Fire Stick you do not ever have to worry about missing any of your favorite shows, you can access a ton of regular TV content and a whole lot of web only content. There is truly no limit to the amount of content that you can utilize with this device. You can also take the stick with you wherever you go and enjoy the same access at the cottage or wherever there is a Wi-Fi connection.
Final Amazon Amazon Fire T.V. Stick Review
The final review basically echoes what we have stated above. We love the fact that you can access great content without being tied down to a cable bill for tons of stuff you never watch. The future of television is here and it includes the Amazon Fire TV Stick. We are ready to give this product a thumbs up rating.
Our Recommendation
We would recommend the Amazon Fire T.V. Stick to anyone who truly wants to cut the cord and free themselves from the necessity of having to pay for their content on a monthly basis and be stuck with a ton of "filler" or stuff they would never watch. Free yourself and get the Stick and YOU choose what content you want to watch, and when. If you are a bit old fashioned but still looking for an alternative then check out the TV Free Way.
What do you think? Does Amazon Fire T.V. Stick work or not?