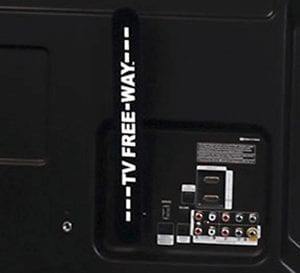 With the high cost of living today a lot of people are looking for ways they can save a few bucks. So is it possible to really reduce your cable bill by resorting back to using an antenna like the TV Free Way is reporting?
Overview
TV Free Way is an antenna that you connect to the back of your television. By doing so you are supposed to be able to bring in both UHV and VHF broadcasts. This means that you could watch your favorite television programs without having the high costs of a cable bill every month.
The Claim
The company claims that the TV Free Way antenna can easily be hooked up to the back of your television. However, in other parts of their promo they are saying that you may have to move the antenna around in the room to get the best reception. For example, you may have to put it nearer to a window.
The Hype
A lot of people are really tired of the high costs of cable, and are looking for ways to reduce their monthly bill. Some are doing this by reducing the packages or bundles that their cable service provider offers. Others that are on a really tight budget are simply cutting their cable off, and going without television and perhaps using it for watching DVDs only. Having an alternative as cheap as what TV Free Way is offering may be a great solution and this is all the hype they need.
The Cost
The cost for TV Free Way is $14.99 plus $7.99 for shipping and handling with a 30 day money back guarantee. If you want to add an extra $7.99 to your order you will get a second one free.
The Commitment
You are going to have to no doubt make some sacrifices if you decide to go back to the antenna style for watching TV. One of the big factors will be reception, and chances are you are not going to get as clear a definition as you have been used to. Then again this will depend on which broadcast you are watching and your location in regards to interference.
Evaluation
It is really ironic to think that maybe history is repeating itself here. Some might remember their grandparents having a television that used rabbit ears to gain reception. Or at one time driving along and seeing a huge antenna running up the side or on top of many houses. Then when cable came alone these pretty well became obsolete. A lot of people think that any form of antenna is now useless, but this doesn't seem to be the case.
Final TV Free Way Review
We're going to give the TV Free Way a Try/Buy rating. There are so many variables when it comes to television reception that it would be difficult to rate this product any higher at the current time. It appears to be new and as such there is no feedback on it as yet. The one thing that we were concerned about is that none of the promo material outlined the radius in which the TV Free Way would work.
Our Recommendation
If you are looking for a cheap alternative to cable perhaps for your cottage or in need of it for your RV then you may want to check out TV Free Way as a viable option. If you are thinking about it for home and are going to cancel your cable provider then maybe you want to do some research and comparison shopping for antenna's before you settle on one. Of course there are alternatives to watching regular broadcasts. A good example is the Google Chromecast.
What do you think? Does TV Free Way work or not?