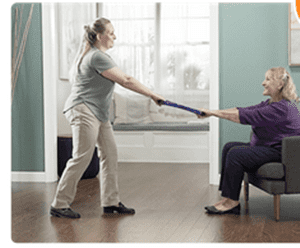 Seniors and people with health issues that cause great difficulty in getting up from a sitting position would greatly benefit from a lifting aid. The Able Assist may be just what you need.
Overview
The Able Assist is a great new innovative product that is used to assist people in increasing their lift potential.
The Claim
The claim to the Able Assist is that by using this product, you can easily lift yourself with assistance from a sitting to standing position.
The Hype
The hype about the Able Assist is that it has a no-slip grip to allow for a solid grip to prevent falls.
The Cost
The cost of the Able Assist is $29.99, plus a processing and handling fee of $4.99. Currently, there is a double offer available allowing you to get a 2nd Able Assist by simply paying an additional fee of $14.99, which includes free processing and handling. This product comes with a 30-day money-back guarantee minus the processing and handling fees.
The Commitment
The commitment to using the Able Assist is ensuring you always have it by your side when sitting or laying down. You must use this product with another person as both people need to grip an end. Explaining to the person assisting you what works best for you is important. You may need to rise slowly or perhaps quickly.
Evaluation
The Able Assist is a great product with patented technology and can assist people weighing up to 400 pounds with vertical dead weight and up to 800 pounds with incline use. Textured handles provide a no-slip grip for safety. This product is completely washable with both household and commercial grade cleaners. The Able Assist only weighs 1 pound and is very easy to use. This device helps prevent back strain that other lifting methods can cause. Utilizing the weight of both people to easily lift the person requiring assistance makes it very safe. The 3 steps involved to use this product are simple. Each person grips it with both hands; the standing person simply walks backward with arms extended, allowing for the sitting person to come to a standing position.
Final Able Assist Review
We are going to give the Able Assist a thumbs up. Such a simple, easy to use product can make a huge difference in someone's life. This product has been used by healthcare professionals to lift patients post-surgery from chairs, hospital beds, and bathrooms with little strain on the patient. Users have increased confidence that they can be assisted with little stress on the person helping them. This product uses physics of inclined plane that creates more leverage when assisting those heavier than yourself. This product is portable and can be used anywhere, the car, home, the cottage, the doctor's office, and social outings.
Our Recommendation
We highly recommend the Able Assist to those who have difficulty getting up. This is a well-made product that can support heavyweight and produce the right amount of leverage to help someone come to a standing position. If you are looking for additional assistance for those having trouble with mobility, take a look at Upwalker.
What do you think? Does The Able Assist work or not?