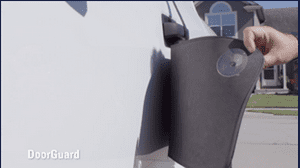 Nothing is more annoying than coming to your vehicle and finding out there is a dent or ding while you have been shopping. Buying the Door Guard can help prevent against this.
Overview
The DoorGuard is a great innovative product that you attach to your vehicle for protection against door dings, scratches, and dents.
The Claim
The claim to the DoorGuard is that it provides revolutionary auto protection.
The Hype
The hype about the DoorGuard is that it is a portable easy to use a protective covering that includes an anti-theft mechanism so the product cannot be stolen.
The Cost
The cost of the DoorGuard is $29.95 plus free shipping. The product comes with a 30-day money-back guarantee.
The Commitment
The commitment regarding the DoorGuard is ensuring you install it wherever your vehicle may be at risk for damage to its doors.
Evaluation
The DoorGuard appears to be a great protective aid for use against minor damage to your vehicle's doors. This product can be used in public parking lots, your home garage, and even in the driveway to prevent unwanted dings, dents, and scratches. The Doorguard prevents expensive, unwanted repairs to your vehicle. A simple yet efficient product like this can save you time and money. No need to leave your vehicle at a body shop for extended periods when you can prevent these things from happening. This product is very easy to install as it attaches with suction cups. It can be used on any vehicle and is portable and can be used on your own different vehicles. It is made from waterproof material and will not damage your vehicle. It folds for easy, convenient storage. The anti-theft strap mechanism is a great bonus feature with this item.
Final DoorGuard Review
We are going to give the Doorguard a thumbs up. This is a great product to use when parking your vehicle in tight parking spaces to help prevent against door dings. This product is so versatile you can literally use it wherever you park. This also gives the vehicle driver a sense of security, knowing that their vehicle is protected against others opening their doors and damaging their vehicle. Utilizing this product does not damage or scratch the paint on your vehicle. The specially designed suction cups prevent this from happening. According to TV Stuff Reviews, voters are in favor of purchasing this item, and it is worth buying. There are currently no customer reviews on this product. Please ensure you complete a customer review when purchasing this product so others can share in your experience and have some knowledge before purchasing this item.
Our Recommendation
We recommend trying the DoorGuard. However, we would recommend you buy 2 of these so both sides of your vehicle can be protected. They are reasonably priced and can save you a lot of time and money down the road. This would make a great gift for new drivers so they can feel a little more at ease when parking in public places or tight parking spaces. Also if you have a roof rack, you may want to take a look at the Moki to help you reach it.
What do you think? Does the DoorGuard work or not?