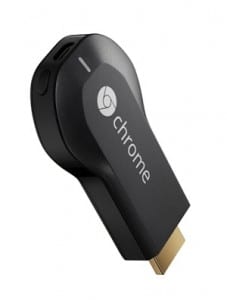 We have all gotten used to having our trusty TV remote to help us find what we are looking for on television without having to get up out of our chairs. Now that really is the life, but what happens when you just can't find something interesting on the television to watch? Well if you have the Google Chromecast to rely on you might just not be in this situation in the future.
Overview
The Google Chromecast seems to be a small but mighty streaming media device that all you have to do is plug it into your HDMI port on your TV, then get ready to watch any of the online media that appeals to you. Its just a matter of setting it up with a simple mobile app that will allow you to send what it is you want to watch to your TV. No longer do you have to sit in front of your computer, or with a small laptop screen in front of you to watch your favorite online media. How much better can it get than this?
The Claim
The Company claims that watching your favorite online media has never been easier, and being able to watch it on television means that a whole bunch of you can now watch the same thing together. They state that the Google Chromecast will work with many of your devices such as your smartphone or ipads and of course Chrome.
The Hype
Simplicity is all the hype that is needed here. While many of us enjoy a multitude of channels depending on our cable providers, there is still a lot of media online that many people want to enjoy. The Company promoting this device focuses on this and the fact that it is reasonably priced.
The Cost
The Google Chromecast HDMI Streaming Media Player
sells for about $35. on Amazon, and no doubt there are several other places available where you can purchase this, which should be roughly around the same price.
The Commitment
The only commitment you are going to have to make is to put this device to good use. The biggest challenge will be what you want to watch first now that you have such easy access to online media. All you have to do is first insert the Google Chromecast into your HDTV, then connect to your wifi, then using one of your devices like your smartphone, or laptop send the media you wish to watch. Nothing complicated or really new to learn.
Evaluation
With the world of electronics that seems to move at such a fast pace it is really a challenge to try and keep up with the latest devices. It is nice though when something that can bring so much pleasure comes with ease of use. It allows those that are not really all that computer savvy to enjoy some of the extra perks that the internet can bring. There are other types of streaming devices such as the Roku Box that have been out for awhile, and when it first hit the market it was impressive with it being so compact, but the Google Chromecast has even outdone this feature.
Final Google Chromecast Review
We believe the Google Chromecast deserves a Thumbs Up rating. It is lightweight, powerful, easy to use and affordable. It is already getting some good ratings. It is something that the entire family can use, so it makes it even more worth the money.
Our Recommendation
If you have been concerned as to what your young ones have been watching on the internet, this would be an ideal solution where you could have them watch their shows, or music listening through this device and its easy for you to monitor. Then for those with a busy lifestyle who just don't have the time for internet viewing, this again could be an ideal alternative.
What do you think? Does the Google Chromecast work or not?