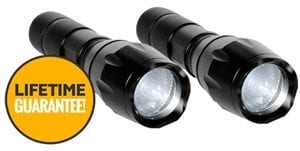 There are always occassions when extra and reliable emergency lighting is needed. It could be that the power has gone out, or you are in a unlit area looking for something. You probably have tons of flashlights sitting in the drawer, but they either aren't working, or if they do they don't shed much light. It might be worth investing in one that isn't going to fail you when the time arrives.
Overview
The Bell and Howell Tac Light is a tactical style flashlight that has considerable more power than a traditional flashlight.
The Claim
The claim is that the Tac Light is a better purchase than other regular flashlights or even tactical flashlights that have a much higher price point due to its performance and durability.
The Hype
The hype around the Tac light is again, the performance features coupled with the durability and the amazingly low price point for a flashlight of this caliber.
The Cost
The cost of the Bell and Howell Tac Light is a very respectable $19.99. If you pay separate shipping fee of only $10 they will send you a second Tac Light for only that amount. In essence you are getting 2 Bell and Howell Tac Lights for only $29.99 which is a very good price for a decent flashlight of any brand, for 2 flashlights of this quality the price is very, very good indeed.
The Commitment
The commitment required for the Bell and Howell Tac Light is really very minimal. The compact size allows you to carry one in your backpack, bug out bag or purse very easily. The fact that the bulb will last over 100,000 hours means you will virtually never need to change it.
Evaluation
As the owner of several tactical style flashlights I am very impressed with both the quality and the features on the Bell and Howell Tac Light. The beam can be seen for over 2 nautical miles making it a great accessory for the boat. Another great idea and one that also makes it a must have for the boater is the ability to send an S.O.S flash that would be recognized the world over if you are ever in distress on the water. The TacLight is made from very strong aircraft grade aluminum that makes it extremely durable. The "overbuilt" construction of the unit allows for it to be both submersed in water, even boiling water, and frozen in ice and it will not cease to function. It can even withstand being run over by a HumVee without being damaged. Other features include a zoom feature that allows you to compress the beam to a much smaller radius than normal as well as a strobe effect that is used by military and law enforcement to disorient attackers or suspects when necessary. The TacLight comes with a lifetime guarantee which is no surprise as the construction of this unit means it will virtually last forever.
Final Bell and Howell Tac Light Review
Bell and Howell has been around for many years making projectors and other devices so it is no surprise that the Tac Light is made with such amazing features and incredible performance. This unit is a must have for any outdoorsman (or woman!) and boaters will also benefit from having one on the boat at all times. The average homeowner will probably not even bother replacing the batteries in their old flashlights after purchasing one of these and will use only the TacLight for all common flashlight uses due to the features and durability found in this light. Great value for the money and definitely a thumbs up rating from us.
Our Recommendation
It really is important to have a light like the Bell and Howell Tac Light that you can count on because its usually something you need to use at a moment's notice. If you are looking for some additional lighting that is not really needed for emergency purpose but can be you may want to check out the Liberty Lantern.
What do you think? Does the Bell and Howell Tac Light work or not?