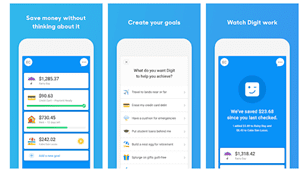 If you have problems with saving money and keeping track of your spending habits then Digit is the app for you.
Overview
Digit is an application used to assist you in creating a savings plan.
The Claim
The claim to using the Digit App is that it saves the perfect amount of money everyday based on your spending habits and your income.
The Hype
The hype about Digit is that once you set up the application, digit moves money from your chequing account into your digit savings account automatically if you can afford it.
The Cost
The cost of the Digit App is free for the first 30 days and then a fee of $5 per month. You can cancel this app at any time.
The Commitment
The commitment to using Digit is first downloading the application and setting it up so you can begin your savings plan right away. Try and let your digit account build up without making any withdrawals so you can meet your savings goals. Set your partner up with this application so you both can benefit from this easy saving plan.
Evaluation
Digit is a great application to automatically save money when and where you can. The app determines how much money can go into your digit account by establishing your spending habits in addition to your income. Money is automatically transferred from the chequing account you indicate on the set up right into your digit savings account.
You have the ability to withdraw money from your digit savings account at any time, as often as you like with no fees. You can earn 1% annually on your Digit account and is paid automatically every 3 months. Digit pays 15X more interest than most savings accounts and 10X more than most National banks.
All funds held within Digit are at FDIC-insured banks. These funds are insured up to a balance of $250,000. This is a very safe and secure way to save money as transactions are encrypted with bank level SSL 128-bit encryption. This adds protection for your funds and personal information. This is a great safe, effortless way to save money.
Final Digit Review
We are going to give Digit a thumbs up. This is an amazing way to save money without even thinking about it. You can create your financial goals with their proprietary algorithm which analyzes your total income, spending habits and expenses and then determines what you can afford to transfer to your Digit account.
Digit does all the work for you, and you don't even miss that little extra money. The amounts are usually quite small but soon will build to a substantial amount of savings. As the saying goes, watch your pennies and the dollars will take care of themselves.
Digit allows you to create different saving pools and will automatically a lot an amount of money to each of your goals. This app also has a no overdraft guarantee. Which means it will never transfer money that you don't have.
Our Recommendation
We highly recommend the Digit App to help you start your automated savings journey. If you are looking for ways to earn extra money then Free Money may give you some suggestions.
What do you think? Does Digit work or not?