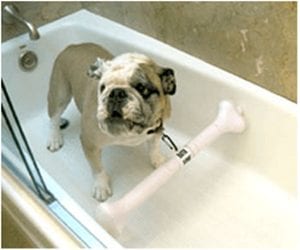 Along with the end of winter warmer weather comes the spring thaw. It is one of the favorite times for your family pooch to dash outdoors and roll around in the melting snow and become mud laden, and think nothing of it to make a quick dash back indoors. This spells bath time and with the bath bone it may not be nearly as nerve wracking or messy as normal.
Overview
For the majority of dog owners they hate the doggie bath time just as much as most dogs seem to. It is usually a time where the dog owner ends up with as much water on them as the dog does. However, the Bath Bone may really be able to turn this bath time adventure into a far more pleasant one.
The Claim
The company claims that their innovative and easy to use product can put an end to the struggles you currently have when trying to bath or groom your dog. It is easy to both install and uninstall in the bathtub. It is indicated that this is a safe method for securing your pet and may mean that you can do a lot of the grooming chores that you dog requires at home instead of having to incur the costs of a groomer.
The Hype
The marketers really know what the dog owners source of frustration is when it come to dog bathing. These canine friends are masters at mustering up all their strength to resist containment at bath time. It doesn't just stop with the water ventures either. This device can be used for other grooming needs like when having to trim the dog's nails.
The Cost
The cost is $19.99 plus shipping and the Bath Bone comes with a anondized aluminum clip and a safety collar.
The Commitment
The big commitment will be making the decision that its bath time for your canine family friend and then setting the time aside for this task. If you install the product correctly then your next big job is going to be bringing your dog out of hiding if he has tuned into the fact its bath time. It may take a little coaxing at first to get your dog to stop resisting the Bath Bone but once he/she discovers its useless to try then most likely the rest of the event will go quite smoothly.
Evaluation
Anything that presents a safe situation for our dogs is a good thing. So many dogs struggle when it comes to bathing and grooming it can create an unsafe environment not to mention a real hassle. There are other types of dog bath restrainers that you can use but you may find that these are more applicable for the smaller type breeds. One of the nice features about this product is that it allows for the dog to be able to hold his neck in a more natural position, which in itself may be more calming.
Final Bath Bone Review
We are going to give the Bath Bone a solid try/buy rating. Chances are the smaller your dog is the more effective this product will be. However, you really will need to incorporate some obedience training no matter what form of bath regime you are going to use for your dog. It is worth taking the effort to introduce your dog to being restrained with the Bath Bone slowly to avoid the panic that comes with restriction. Then you can introduce the water in stages. Once your dog sees that he has nothing to fear, and that getting loose is not an option it should make things go easier.
Our Recommendation
We find that the Bath Bone is really a dog owners product of convenience and safety. Pet products are not easy to buy but with a little research you can usually make some good purchases.
What do you think? Does Bath Bone work or not?