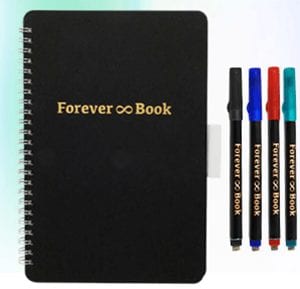 Most of us at some point time make use of pen and paper although our trusty laptops have reduced this dramatically. A new approach to mobile note taking has arisen and this is the Forever Book.
Overview
If you think back over the years just how many mini note books or note pads have you purchased? They soon get full of what we think are important notes then get thrown into a drawer once they are full, never to be looked at again. The Forever Book is simply a mini whiteboard that takes on the size and shape of a small note book. The entries can be wiped clean once they are no longer needed. It really is a convenient way of jotting down important data, then getting rid of it when no longer pertinent.
The Claim
The Company claims that the Forever Book is just like a smaller, easy to carry, portable dry-erase book. They are claiming that the notes that you make by using their special pens won't smudge or erase until you use the special eraser.
The Hype
The hype all focuses around saving some money by not having to buy a bunch of mini note books,and making the product convenient to use and carry. This is such a small item but one that many of us regularly use for different reasons, and convenience is really the highlight here with this product.
The Cost
You can expect to pay $17.50 which includes the shipping and handling for the Forever Book. With this you will get the notebook and 4 special pens for writing your notes. If you want to add an extra $7.50 to cover the cost of shipping and handling you can also get the bonus pad with your order.
The Commitment
You are going to have to remember to carry your special writing markers along with your Forever Book, so the product serves it's full purpose.It appears as though it has a special tab on the side of the book to do this.
Evaluation
At first glance this really looks like a very unique product. In conducting our research we were surprised to learn that there are other versions similar to this. It was interesting to note that this additional version called the Wipe Book was created by a group of students.
Final Forever Book Review
We like the concept that the Forever Book is designed around so we are going to give it a Try/Buy rating. If it were the only book of its kind then we may have stepped it up a notch and given it a thumbs up. It really is an ideal size for carrying in your pocket or purse which makes it convenient. However, we really did like the Wipebook for those that are interested in a bigger version of the dry-erase type of notebooks.
Our Recommendation
If you happen to be a person who does a lot of jotting down of important information then the Forever Book may be a great choice for you. What you can do is keep a separate standard type notebook to transfer important information from the Forever Book. This way you are really going to condense your paper collection of notes. While this seems like a great product its concept will never totally eliminate the need for permanent note taking. For this we have made recommendations for using good writing instruments.
What do you think? Does the Forever Book work or not?