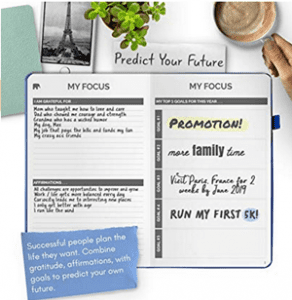 Keeping track of events and goals may be difficult for some people. Purchasing a product like the Simple Elephant planner can make your life much easier.
Overview
The Simple Elephant Planner is Daily and Weekly Agenda Journal to help keep you on track.
The Claim
The claim to the Simple Elephant planner is that you will feel more confident and in control while staying organized and focused through the use of this product.
The Hype
The hype about the Simple Elephant Planner is that it has been featured on ABC, Fox and dozens of other media as a great product.
The Cost
The cost of the Simple Elephant Planner is $17.99. It comes with a 100% money back guarantee.
The Commitment
The commitment required to using the Simple Elephant Planner is ensuring you use it everyday to achieve the full benefits of this product. Sharing information about this product with others can greatly improve their personal productivity and happiness.
Evaluation
The Simple Elephant Planner is a great product that improves personal psychology to achieve a greater sense of productivity and happiness. The ability to fully engage your mind by crafting affirmations and goals can lead to living a very happy and successful life. The product is essentially a 3 in 1 product. It acts as a productivity and goal tracker, a day planner and a notebook. You can organize hectic days and keep on top of events and activities so you don't miss them. This can be an aid used to prevent procrastination and help you achieve your goals. The undated pages is a great idea allowing you to reuse the journal for the next year, and tracking your accomplishments from year to year. The journal is constructed of thick no bleed paper, with a durable soft leatherette hardcover and a reinforced pen holder. It has 3 bookmarks, 12 monthly views, 52 weekly views and 58 note pages. This is a perfect year round product for both men and women. It is also a great way to teach your children how to document goals and see their accomplishments. It is a great gift giving idea as it comes in a beautiful gift box and includes a free sheet of stickers and a bonus set of productivity enhancing ebooks and infographics.
Final Simple Elephant Planner Review
We are giving the Simple Elephant Planner a thumbs up. This product can greatly help you live an organized, goal oriented and achievement based life. 75% of customer reviews have rated this product 5 out of 5 stars. It has been noted to be a very sturdy product, and great value for your money. One customer review stated this product is very useful for her severe case of Adult ADHD, it helps keep her focused and on track to achieve her goals. It helps her to organize her thoughts and allows her to document tasks, feelings and accomplishments in the note pages at the back of the planner.
Our Recommendation
We highly recommend the Simple Elephant Planner as a unique organizational and task reminder tool for anyone at any age. It is also a great way to keep track of appointments and important events in your life. It is a great educational tool for your kids to learn how to better organize and manage their time for high levels of productivity. For kids something that may really help them with their homework is the https://doesitreallywork.org/homework-caddy-review/homeowork caddy.
What do you think? Does the Simple Elephant Planner work or not?