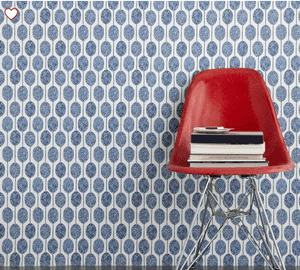 Home decor is a very individual and personal choice. A new product like Chasing Paper Removable Wallpaper Panels provides an abundance of choices to meet anyone's home interior design tastes.
Overview
Chasing Paper is a removable wallpaper panel that can be purchased in many colors and designs.
The Claim
The claim to Chasing Paper is this product is not exclusive for wall covering. It can be used on furniture and other household furnishings.
The Hype
The hype about Chasing Paper is the fact that it is easy to install and easier to remove.
The Cost
The cost of Chasing Paper is Approximately $40-$50 per 2' x 4' panel. An additional Processing and handling fee will apply. Free shipping can be provided through the West Elm Website with a Promo Code.
The Commitment
The commitment to Chasing Paper is not only choosing the right pattern and color for your decor project, but also installing it. Sharing information about this great product with family and friends enables others to purchase this easy to use the product.
Evaluation
Chasing Paper is a great invention. The ability to purchase and install this product yourself saves time and money. This product comes in peel and stick panels of fabric with a non-toxic, low tack backing. This product is ideal for people that are renting facilities and are limited to what the landlord allows you to do. After applying this product, when required, it simply peels off. For those that are avid redecorators, this is the perfect product. When redecorating is desired, this simply peels off and is ready for the next chasing paper selection. There are numerous selections to choose from to meet everyone's home decorating needs. Some of the popular designs are Dusk, Botany, Agate, Palm and Chalkboard Panels. This is also a great product for students that reside on campus to make their living space their own. The Chalkboard panel is ideal for a student to keep track of their classes, assignments, tests, and exams. At the end of the school year, simply peel off the chasing paper wallpaper panel. When removing this product properly, it can be reused for other products and even crafts. This is also a great product that can be used at the office to create an accent wall or just spruce it up a bit. If you change offices, no problem, simply peel off the wall covering and you're good to go.
Final Chasing Paper Review
We are going to give the Chasing Paper Removable Wallpaper a thumbs up. This product is so versatile it can be virtually used anywhere. Use it in your summer cottage, mobile home, home, home office, business office, on furniture, to recover home decor accents, and the list goes on. Chasing Paper products has a rich texture, and a 9" by 12" sample size can be purchased before committing to a larger purchase. This product used a latex ink and has no fumes, and requires no curing or drying time.
Our Recommendation
We highly recommend Chasing Paper as your next home decorating product. This easy to use and easy to remove product can be used on any smooth surface. If you just want to go with some simple wall covering then consider Fat Head Wall Decals.
What do you think? Does Chasing Paper work or not?