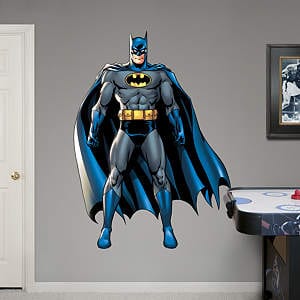 If you are looking for a fun and exciting way to spruce up your youngster's room then you really want to check out the Fathead Wall Decals. Even some of the adults are finding this form of wall art just way too cool, but see what you think yourself.
Overview
The name Fathead Wall Decals just about says it all, but maybe fathead is not all that descriptive of this large selection of characters designed to spruce up a room. The heads of the characters really are in proportion to the rest of their whimsical bodies, but one thing for sure is that they are big, and won't go unnoticed by anyone that walks into a room where anyone of the Fathead Wall Decals has been put on the wall.
The Claim
The company claims that they are lifelike murals. They say that these vinyl wall graphics are the ideal way to add decor to a room. They state that their form of wall art is sure to get a reaction, and they are surely right about this.
The Hype
It really is appealing to parents who are dealing with the little ones who always seem to be bouncing from one theme to another. One day it is fairy tale characters and them before you know it the boys are touting their best football heroes, and the girls are no different at this quick change of whats trending according to their age. For parents, now changing the decor to match the latest likes of the young ones is quickly done as the Fathead Wall Decals are reusable. The big hype here is not having to spend tons of money every year on the changing of the decor of the child's bedroom.
The Cost
You can purchase directly from the Fathead Wall Decals site, and at any given moment you may find some type of sale or promotion going on. Just to give you an idea of what the pricing is at the moment, The Batman Leaping decal is going for $99.99 and it's size is 198cm x 127cm. However the Fathead Wall Decals are not just restricted to kids or characters. There are offerings like the Art and Decor collection that are designed to beautify any room, and these range in price as well, but currently there are some that are being offered at $89.99 for example.
The Commitment
If you are about to change the decor in the room you are planning to implement the new decal then chances are you may end up having to strip some old wall paper or at least give it a fresh coat of paint. When you are ready to put up the new Fathead Wall Decals then you may want to make sure you have at least one other person to help you and maybe even a third person depending on the size of the one you have chosen.
Evaluation
We really are all for anything that brightens up a child's world and we think the Fathead Wall Decals are able to do this. Some of them have been on sale through Amazon so there is some feed backs pertaining the decals related to some of the characters. Some of the characters have been available for quite some time so the number of reviews will be greater for these. Also, keep in mind with the older reviews that the makers of the product may have made some significant changes since then.
Final Fathead Wall Decals Review
We are going to give these product a Thumbs Up rating. There may be some that have not had a good experience with them, but overall we like the size, the dynamic colors and the amazing number of choices that both the young and the adults can make. When you compare the price of them to what it would could to entirely revamp the theme of a room it really is quite reasonable.
Our Recommendation
There are lots of things that can bring joy and laughter to the child's atmosphere and perhaps the Fathead is one of them, but then another favorite that has been around for awhile and can also brighten up a child's room is My Lil Rainbow.
What do you think? Do Fathead Wall Decals work or not?