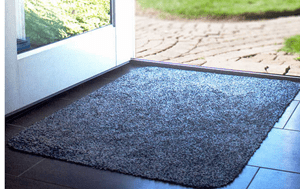 Although the winter weather is behind us now its time to start thinking about what extra chores the warmer weather brings to the average household. Common ones are cleaning up after the treaking in of sand or mud following a rainstorm. A product that may come in handy for helping to reduce the work that these situations cause is the Floorguard Magic Mat
Overview
The Floorguard Magic Mat is no run of the mill doormat. It is especially beneficial for those who have pets that no dobut trek in all kinds of debris and mud from being out on wet ground.
The Claim
The claim being made about the Floorguard Magic Mat is that it has the ability to absorb multiple types its own weight in moisture and still keep performing. It has a non slip durable backing
The Hype
What makes the Floorguard Magic Mat stand out among the rest is that it is being marketed for its ability to catch everything that the pets bring in on their paws.
The Cost
The cost for the Floorguard Magic Mat will depend on the size you are purchasing and where you are purchasing it from. It is available at Costco as well as on Amazon where it is selling for $129.56 CDN for a 4ft.11 in x 2ft.6in.
The Commitment
The commitment is really going to be deciding if you want to invest this type of money in a mat. The decision should be based on just how much time you think the Floorguard Magic Mat is going to save you when it comes to cleaning.
Evaluation
When evaluating the Floorguard Magic Mat it means looking at what some of its buyers have had to say. On Amazon as yet it has not had that much feedback. Currently out of 4 customer reviews it has received a 3.4 star rating with 50% of these giving it a five star. The complaints from these reviews vary with some saying that they are too think and cheap looking. At the Costco site for Canada there are more reviews available which have given it a 4.5 rating based on 35 reviews. Most will give it a 4.5 for quality but only a 4.2 for value. This is not a new product on the market so there are some that have been using the Floorguard Magic Mat for a few years. Many that have report good findings about it. They seem to appreciate the durability, so perhaps it being thin is not affecting its performance or longevity.
Final Floorguard Magic Mat Review
We are prepared to give the Floorguard Magic Mat a thumbs up. However, we do find it a bit pricey. So buyers will want to give some careful thought to this when they want to risk the investment. Some complain that because the mat is so thin it is hard to vacuum.
Our Recommendation
It isn't just the homes that need some floor protection. So do our vehicle. If you are looking for some all purpose mats for this then check out Wizard Mat.
What do you think? Does Floorguard Magic Mat work or not?