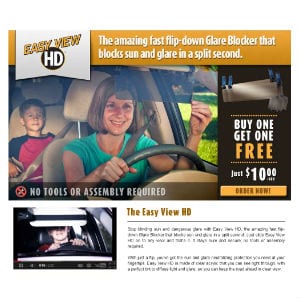 Easy View HD is a sun visor that extends your normal visor, but is transparent and tinted so that you can see through it and see the road without the glare. Of course it looks like it works, but the real question is how does it perform when you get it set up in your car.
Overview
It's true that morning and evening rush hour can be some of the worst times to drive in terms of the sun being out. You end up with the rising sun in your face in the morning, and the setting sun at night. Even during midday the glare can be so bad that you aren't able to keep your eyes on the road in front of you. That's a serious breach to safe driving and is something that needs to be solved.
The Claim
The makers of Easy View say that you don't need any tools to install this, and it comes fully assembled so you just stick it in place. They say it provides anti-glare benefits, sort of like a pair of sunglasses but without having to wear them while driving. They say it also comes with a high density attachment that you slide along it to block the sun specifically so you don't have it right in your line of sight.
The Hype
This has its own mini infomercial that shows how it works and shows the problem of trying to drive with the sun in your face. It's a legitimate problem that is likely the cause of several accidents each year, and at the very least it can be a harrowing experience to drive with limited visibility, or with your eyes not looking straight ahead to see what's coming.
The Cost
There is an original price listed at $10 but you have to factor in two $8 shipping charges so the total comes to $26. We were unable to locate a product that is just like this one, but one competing product would be a pair of sunglasses, and it's hard to find a decent pair of those for $26. That make the claim that this is a $30 value that you're getting for $10 but it's clear after reading the offer details that the total price is pretty close to the stated value. And of course it's not clear on how they came up with a value of $30 for a few pieces of plastic essentially.
The Commitment
All that's needed on your part is to put this on your visor and use it when the sun is in your face. You can slide the sun diffuser as the sun moves or as the road turns so that you've got it in place just right and can drive uninhibited by all of that brightness. Compared to using the standard visor that comes in your car this would be a better choice, as it doesn't block your view but is just as easy to use. It's also just as easy as putting on a pair of sunglasses.
Evaluation
The concept behind Easy View is a pretty good one, and it does make the point that conventional visors block your view and therefore aren't very good at the job they're intended for. But they make a great place to attach these to, and they've done a good job on the design, even including the dense slider that blocks out the sun specifically for those times when you're driving right into it.
If you can relate to the people in the TV ad, having to suffer through a sun drenched commute each day, you will most definitely like having these in your car. It beats wearing sunglasses each day, especially if you have to drive a while and end up with marks on your marks on your nose where the glasses rest. It's also nice not to mess up your hair with sunglasses if you can help it. This would also be great for long road trips so that you know you'll be covered no matter what sort of conditions you're faced with.
Final Easy View HD Review
Easy View is a good idea, and at $13 apiece you can put one of these in two cars or have one car with one on each visor. Maybe one day cars will come standard with something like this, so that the sun visors can actually do the job they're meant to do without blocking your view. One caveat: if you return these you'll only receive back the $10 listed price of the item and be out the $16 in shipping, plus have to pay return costs.
Our Recommendation
This would be good to get if you don't like wearing sunglasses, and you have a sunny commute each day. It frees you from having to stare into the sun, and sometimes it can be so bright that sunglasses don't even do the trick on their own.
What do you think? Does Easy View work or not?