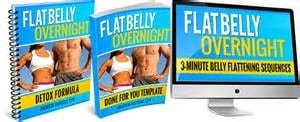 Most people that are interested in losing weight have many different reasons for doing so. One of their priorities is so they can better their appearance. A big problem with being overweight is the fat belly and for this reason we though that the Flat Belly Overnight System might be worth taking a look at.
Overview
While there are tons of weight loss programs on the market to take advantage of the Flat Belly Overnight focuses on one of the major pain points of being too heavy and that is the belly fat. This is a big issue with both genders and why the promoters of this product have chosen to focus on this area of weight loss. The program can easily be downloaded so interested individuals can get started right away. One of the great features about the Flat Belly Overnight is the simple but very easy to follow and do instructions that are provided.
The Claim
Flat Belly Overnight as the name indicates may be a little deceiving in that it is not a miracle program. You need to view this as being your first step to getting the fat off your belly and once you start the program then you are beginning to do this. Realistically what the promoters claim is that your should begin to enjoy a flatter and firmer belly within a few weeks.
The Hype
The hype all focuses around the main pain point of carrying too much weight which is the extended belly. The marketing materials focus on this but the overall Flat Belly Overnight program tackles weight loss in its entirety.
The Cost
You can get the Flat Belly Overnight for the low price of $37.
The Commitment
If you are looking for a miracle fix to your big belly then this means you are not prepared to put any work or effort into reaching your goal. In that case then Flat Belly Overnight is not for you. This is a program that is based on following three modules. This means you need to study the program first then create a mind set that you are going to follow it.
Evaluation
The credibility of the program is good. It was developed by Andrew Raposo who is a CSEP certified personal trainer situated in Canada. The Flat Belly Overnight is a very detailed yet simple program to follow. It is comprised of some short but easy to handle exercises, a detox program that is not over taxing, and a guide template that makes it easy for you to adapt it to your personalized needs and be able to follow it.
Final Flat Belly Overnight Review
We are going to give the Flat Belly Overnight program a Thumbs Up rating. We like the credibility that the program is produced by a professional. We also like the fact that it includes some form of exercise and a detox section which really is important to proper weight loss and especially for working on the tummy section.
Our Recommendation
If you really want to see some results by getting some of the fat off your stomach without spending a fortune on weight loss programs then we think you should give the Flat Belly Overnight a try. For additional resources to help you with your belly flat you could take a look at Slim Away.
Official Website: Fat Belly Overnight
What do you think? Does Flat Belly Overnight work or not?