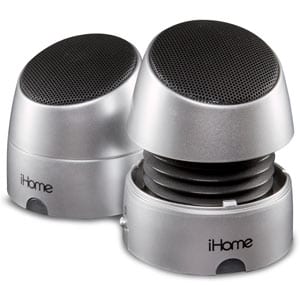 When perusing the different capsule speakers on the market, you'll know doubt run into iHome Portable Speakers and wonder if their reputation is accurate. iHome products have been popular ever since iPods went viral, and they've enjoyed continued success with each new manifestation from the gang at Apple. The built-in speakers on things like iPods, iPhones, and iPads leave much to be desired, and that's where iHome makes its home.
Overview
iHome has a reputation for providing a high-quality sound, at a price you can swallow. Sure, Bose might make better sounding, small-sized speakers, but they usually aren't portable, and they cost an arm and a leg. The big draw to iHome portable speakers is that for the price you're getting good value for your money, and a superior listening experience than if you just relied on the factory speaker system.
What We Like
At this price point you'd be hard-pressed to find a better sound coming from such a small package. They scrunch up to a good size when traveling, but accordion out when it's time to perform. You'll want to take the extra time to extend them, because they sound much better, and provide more bass effect if they're pulled out. We like that they've got a rechargeable battery, that charges with a USB port. This means you won't have to constantly replace the battery (go green!) and you will be able to use them while on the go and not worry about finding a power source for them, or about them sapping your iPhone or iPod juice.
What We Don't Like
You'll notice that when you really want to jam your tunes you'll get some distortion with iHome portable speakers. This is common among smaller-sized speakers, and is hard to prevent or avoid from a manufacturing standpoint.
Technical Specs
There are many types of iHome portable speakers, but the latest model is iHM79 and comes in a variety of colors including black (iHM79BC) and silver (iHM79SC). All of these models are technically identical other than the color. They're about two and a half inches wide and two inches high when folded up.
Capsule speakers remain a niche product, but they offer some appeal to laptop users who want better sound but don't want to lug around a set of more standard-size computer speakers. The only drawback to going small is that even if the speakers sound better than most internal laptop speakers, they usually still sound pretty mediocre. What's slightly different about the iHM79s, then, is that iHome has made these mini speakers a tad larger than its early capsule models, and the result is that they sound better but take up a little more room in your computer bag.
The Cost
You can grab a pair of iHome portable speakers for around $40, making them not so cheap, but not so expensive, as Goldilocks puts it "just right". Go any cheaper and you'll no doubt sacrifice sound quality due to cheap manufacturing. Go any more expensive and you could be overpaying. Compared to the other product offerings from iHome, you're basically getting the same high quality product at a lower price.
Evaluation
When holding onto both speakers you may or may not notice that they clock in at under half a pound. The circular shape means that they're relatively stable, and don't knock over easily. If you plan on using them as your regular speakers when you're at home and on the laptop, you'll just keep them expanded and ready to play. If you find yourself traveling, it just involves collapsing them down, attaching them to each other, and tossing them with the rest of your notebook accessories. The fact that they connect to each other for travel is a good feature, this prevents them from knocking around in your computer bag.
In order to charge up the batteries you simply plug them into a desktop or notebook computer with the included USB cable. There's also an optional attachment that you can get that allows you to charge via a regular power outlet, if you don't like the idea of having to have your computer on in order to charge the speakers. However, for traveling, especially abroad, the USB charging cable works wonders because you don't have to worry about finding an adapter in whichever country you find yourself. The U in USB is for Universal, and most every computer you find on your travels will have one.
Final iHome Portable Speakers Review
We're giving the iHome Portable Speakers a Thumbs Up review. The key is not to think that you're going to get a $1000 sound system from a $40 portable speaker. They will definitely be an upgrade to what comes with your portable device, and unless you're a full on audiophile you'll more than likely be really happy with them. If you're a frequent traveler that loves their music, this is where you can't go wrong. These were built to travel.
Our Recommendation
IF you're looking for a portable speaker system to replace your current set up, you should get a pair of iHome portable speakers. The model we recommend is the HM79SC the silver ones, because they just look sharp. You can get the pink version if you want to Girl Power it up a bit. But as far as sound quality, and a solid purchase in an economy where you really have to scrutinize what you spend money on, this is a good choice.
What do you think? Do iHome Portable Speakers work or not?