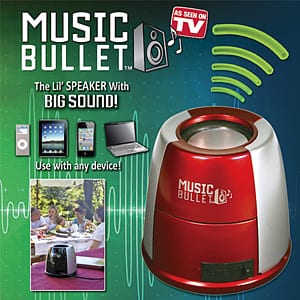 There's a lot to be desired from the speakers in most handheld items like phones and tablets, and Music Bullet is positioning itself as the answer. It's pretty tiny, about the size of a desktop mouse, but it promises to deliver a powerful sound, and even bass. Bass is usually what's lacking in your mobile phone or your iPad, which is what gives the music it's rich sound and makes it sound good and not tinny. But can this little gadget really produce high quality sound, or is it all hype?
Overview
Getting small things to sound good is no easy feat. Speakers need some space in order to produce rich sound, and even very small speakers like you find on Bose home entertainment systems still need the bass to come from the big bass unit that sits by the TV. It's pretty hard to produce good-sounding music from a smartphone, an iPod or iPod touch, an iPad, or other tablet device. And since so many apps and multimedia rely on sound to give the best effect, it often leaves them feeling a little short.
The Claim
Music Bullet, not to be confused with Magic Bullet, claims to change all of that and give you the sound you've been missing all this time from your portable devices. They say that it delivers big quality sound and "kickin' bass" from all of those gadgets you have that lack this capacity. They claim a 1000% increase in the volume and quality of the sound, and refer to it as "concert-like". To make the bass sound better, they claim that you can expand the Music Bullet like an accordion, and it will improve the performance.
They say you get up to 7 hours of sound from the rechargeable battery, which plugs into any USB port. They claim it sounds good no matter what sort of musical style you like, and even works great for audiobooks and as a speakerphone for your mobile. They say you can turn your iPad into a mini movie theater.
The Hype
The hype comes from just how small the Music Bullet is, and just how overboard they say the sound is. Things can only sound so good at this price point, can't they? It's not like they're packing in years of research and development into a product like this and then letting it go for such a low price.
The Cost
The Music Bullet comes with the ever-so-popular get 2 just pay additional shipping promos so you'll actually end up getting two of them for $34, or $17 each. This actually comes in handy, because most of us could use one at home and one at the office, or give one to a family member, or just have a spare in case something happens to the first one. Some buy 2 offers are lousy, but this one actually makes some sense.
The Commitment
The Music Bullet is designed to be pretty hands off, just plug it into the device of your choice to add exceptional sound to it. If you're on the go and want to listen to your music, you'll have to commit to bringing this along with you, which can be kind of a drag, but will be worth it when you get where you're going and can enjoy your tunes.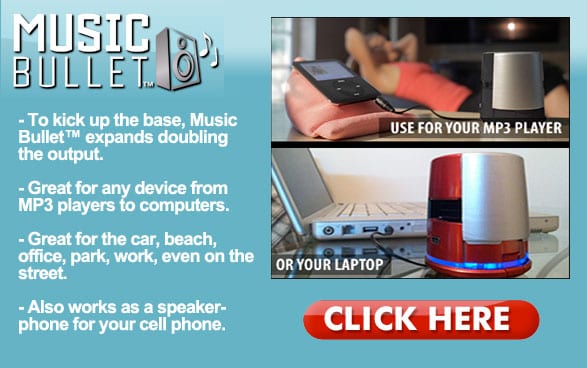 Evaluation
It must be the over-expectations created by the infomercial that lead to disappointing reviews, because this little speaker sounds far better than most anything else you can buy at this price point. The bass doesn't sound amazing, but the sound quality is much improved over the factory installed sound systems of most handheld electronics. Is it 1000% better? No. Did we think it would be? No.
Based on the real world tests, and feedback from those that have actually bought and tried it, the Music Bullet provides better sound quality than most of the devices out there. It might not be as good as some of the higher-end solutions out there, but for $17 each delivered to your door, it's a winner.
Final Music Bullet Review
If you are looking for an affordable portable speaker, the Music Bullet is a great choice. It has great sound and decent base for such a small speaker. We recommend you get it from the official website to get the best deal possible.
What do you think? Does Music Bullet work or not?