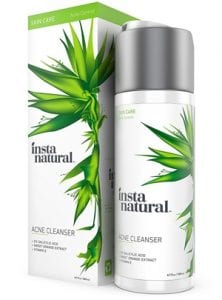 We haven't talked about acne treatments for awhile now and with the warm weather not too far off in the future a lot of guys and gals want to rid themselves of their acne problem, so we thought that InstaNatural Acne Face Wash might be beneficial for helping with this.
Overview
Any person who has suffered from the soul crushing effects of a bad case of acne can attest to the fact that your self- esteem can quickly become shattered when you are plagued with a really bad break out. The beauty care industry has been searching for many years for the best acne treatments so that they can bring them to market. Make no mistake however, their motivations are not altruistic they are financial so there are a lot of products on the market that claim to be effective but in reality they are little more than a way to increase market share and shareholder dollars. On the other hand there are some products that truly help acne sufferers; the problem is finding the ones that work in the flotsam and jetsam of acne products. InstaNatural Acne Face Wash is a new acne fighting product that claims it works better than other products so let's have a look at it shall we!
The Claim
The claim is that by using InstaNatural Acne Face Wash you will see your acne disappear and have firmer, dryer and less oily skin.
The Hype
The hype is realized by the ingredients in InstaNatural Acne Face Wash. The product claims to have salicylic acid as a main ingredient and is comprised of a proprietary blend of ingredients that are proven to reduce the acne on your face and make your entire complexion clearer and smoother.
The Cost
The cost of InstaNatural Acne Face Wash is only $17.07. Pretty decent price point for an acne treatment as there are many much more expensive products on the market that make the same claims as this one does.
The Commitment
As with any acne treatment the results will not occur overnight and you really need to give InstaNatural Acne Face Wash a little time to see if it is really beneficial in the long run. The commitment required for this product would be to use it a directed for a period of time to see if it works. If you do not commit to using it as directed then you really will not know if the product is beneficial or not.
Evaluation
From reading their description and weighing the pros and cons of the ingredients that they have stated that are the main components of the product we can say that we understand the science behind what they are trying to accomplish and it sounds reasonable. There are many customer reviews on a variety of sites that sell this product and the vast majority of them are very positive with only a few being negative and most of those seem to be allergic reactions to a particular ingredient rather than a failed treatment result.
Final InstaNatural Acne Face Wash Review
InstaNatural carries many other types of skincare products and they have been well recognized as being beneficial, so based on their credibility we are going to give the InstaNatural Acne Face Wash a Thumbs Up. It has proven ingredients and is reasonably priced.
Our Recommendation
Before making your final decision you may want to check out some of the other acne reviews we have done so you can do some comparisons.
What do you think? Does InstaNatural Acne Face Wash work or not?