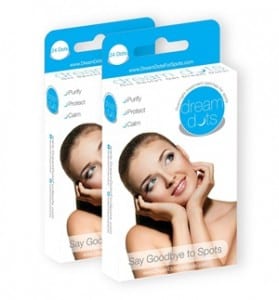 Every once in a while almost everyone ends up with a unsightly pimple, and usually this occurs at the most inopportune time, but there may be some quick help for this by using Dream Dots.
Overview
Many people suffer with various forms of acne for which they need to find regular overall treatments for. Then there are those who only end up with the occasional pimple and they don't want to use a full treatment. Dream Dots may be the perfect solution because it is a small patch that is applied directly to the pimple.
The Claim
The Company claims that it goes to work on the pimple overnight and has gentle ingredients which are effective.It claims to be a seven in one acne solution. They are claiming that it is a natural healing patch.
The Hype
The company is focusing on this being a spot treatment for pimples which is appealing to those that only have the occasional break out to deal with. It is also concentrating on the fact that many don't want to be using harsh chemicals or ingredients to treat acne.
The Cost
The Dream Dots cost $29.95 and comes with 48 acne patches. They are also claiming that if you are not happy with the product you just need to send them an email and they will give you 100% of your money back.
The Commitment
You are going to want to use the Dream Dots as soon as you see a pimple forming to be able to get it treated quickly and hopefully before it becomes too painful.
Evaluation
Being able to spot treat a pimple quickly and easily is a good benefit. This one comes with convenience as you don't have to deal with messy creams or solutions. You can sleep with it on and have no worries about it rubbing off. Some of the reviews are indicating that people like the Dream Dots because they are transparent and they can use them through the day and they are hardly noticeable. The one thing that we are a little hesitant on is there are no clear indications as to exactly what are the ingredients comprised of, other than saying they are natural.
Final Dream Dots Review
We are going to give the Dream Dots a Thumbs Up review even though it appears to be a fairly new product. Out of 14 reviews so far on Amazon it has received a 4.4 out of 5 star rating, which is pretty good for an acne product, being as every acne breakout is unique to the individual suffering from it.
Our Recommendation
The Dream Dots may be a great product for you to use for your infrequent acne breakouts or even if its frequent but you only have a few pimples to deal with. For those that get a lot more pimples you may want to consider a product with greater coverage. One that we did a review on that is getting some good reviews is the AcneFree.. Keep in mind if you suffer with severe acne you should check with your health care provider as to what is the best treatment for you.
What do you think? Does Dream Dots work or not?