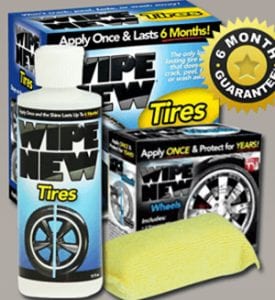 In the warm weather a lot of people like to take leisurely drives and at the same time show off their vehicle, which of course is spotlessly clean, and maybe with the help of Wipe New Tires the tires will look and stay looking great.
Overview
Wipe New Tires is a product that is supposed to be used on your vehicle tires to keep them super clean. They are saying that the big difference in their product is that it contains a nano-polymer rather than a silicon base, which they believe gives better results.
The Claim
The Company claims that Wipe New Tires will last through over 100 car washings or around six months. They are saying the finish is dry and non greasy, so it doesn't act like a magnet for dust and pollen which would make the tires unattractive as it accumulates. They claim the product will keep the tires looking show room new even after going through repeated washings.
The Hype
Car cleaning is no easy task, and anything that cuts down this work like Wipe New Tires is supposed to do is well received. The tires are one of the biggest areas for building up dirt and grime therefore making them the most difficult to clean and keep clean. The best part according to what the promo materials indicates is, the ease of use of the product which is to just apply the product and let it dry.
The Cost
You can expect to pay $14.99 for 2 fl.oz, which is reported as being enough for 4 standard automobile tires. Included in this you will get a applicator and a pair of gloves.
The Commitment
The first thing you are going to have to do is clean your tires thoroughly. Then you can use the Wipe New Tires as the protector. According to the marketers for approx. the next six months cleaning your tires will be easy as you just need to rinse away the dirt, and the tires will be restored back to the shine that they were given with the use of the Wipe New Tires.
Evaluation
Wipe New Tires is in a fair number of big box stores, but as yet there aren't a lot of reviews posted as it is still a relatively new product. It has been mentioned on a few forums with positive results. Also on the marketing website there are some positive reviews with no bad ones which is to be expected.
Final Wipe New Tires Review
We're going to give the Wipe New Tires a Thumbs Up review. Mostly because we like the time and effort that they put into their marketing website, which is not just your run of the mill sales page. Our one hesitation is that they do offer a money back guarantee with some restrictions. You won't find out what these restrictions are because the information is contained within the product box, so you have to buy first then find out. Overall they are putting a great deal of effort into marketing the product so it is unlikely this is a hit and miss product, and if it produces the results it is claiming, then this is going to be a big time saver when it comes to cleaning the tires and keeping them clean.
Our Recommendation
The price of Wipe New Tires is reasonable if it lives up to the approx. six months of protection that it is indicating. When you purchase the product it is only enough for one application, so for six months that's a pretty good price. We have talked about other tire products in the past like Wheel Jelly, so you may want to take a look at it as well.
What do you think? Does Wipe New Tires work or not?