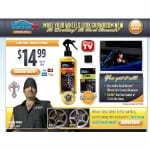 Wheel Jelly is a spray-on spray-off cleaner for the wheels of your car that's supposed to make it a lot easier to get off all of the dirt and oil they accumulate. But can it really save you from having to scrub your wheels?
Overview
Keeping your car looking good takes a few different products, like a good car wash soap, a good after wash wax, a detailing solution, and of course something that can keep your wheels looking good. If possible you don't want to have to spend forever just to keep it looking good, but paying someone else to clean it for you can really start to add up. A product that could allow you to do it yourself but make it effortless so it's like you're not really doing anything would be ideal.
The Claim
The main claim made by the makers of Wheel Jelly is that it saves you from having to use elbow grease and a lot of effort and strain in order to get your wheels looking good. They say it sticks to the wheel and acts to break up all of the gunk that's on it. Then they say all you have to do is come by and spray it all off with a hose.
The Hype
They have the same guy that sold Detail Doctor selling this wheel cleaner. They show it working rather well, which is the goal of any infomercial, but it leads you to wonder if it could really work as good as it's shown to.
The Cost
The total cost for Wheel Jelly comes to $27 and includes the wheel cleaner and degreaser as the main product, but also an additional product called Tire Shine that is supposed to last you for an entire year. When you consider that the jelly alone should save you the hassle of cleaning your wheels, it seems worth it. When you compare it to other wheels cleaners on the market you'll see that it's rather pricey, so it need to be able to do what it says or it won't be worth it.
The Commitment
The whole premise of this product is that you won't have to spend as much time cleaning the wheels of your car. When you consider that these are some of the dirtiest parts of your car, and will need to be cleaned repeatedly because they're always getting dirty, this cleanser could really save you time again and again if it works as depicted.
Evaluation
They've had spray on wheel cleaners around for awhile now, so it's not as if they've really invented anything new here, but they are trying to attach their brand to it in hopes that you'll use theirs instead of someone else's. With the success of Detail Doctor they seem to be trying to branch out and have a line of car care products marketed to the masses.
If you've ever tried to scrub off your wheels and realized that what you're really doing is just smearing the oil around and making a bigger mess, you likely realized that you need a degreasing agent as well as something that makes it so you don't have to use a lot of energy to do it. The way they've designed this to be as effort free as possible is a big reason to give it a try.
Final Wheel Jelly Review
Wheel Jelly is getting our Solid Try rating based on the track record of Detail Doctor and the initial feedback it's been getting. It seems that they are making an earnest effort of bringing to market products that provide good results. When it comes to buying car products it can be hard if you're not really knowledgeable about cars and what is needed to take care of them. They appear to be establishing themselves as a trusted source of quality products in the car care department.
One option you might want to try Meguiar's Hot Rims as it is designed to clean off your wheels in the same way, by just spraying it on and spraying it off, and here's the kicker: it's just $5. Could be an easy way to save $20 and get the same or similar results.
Our Recommendation
You do have several options here, and you may want to exhaust the others before going with this. For example, there are wheel cleaners that you can get from your local Pep Boys or auto center. They can recommend you the top-selling wheel cleaner, and if it doesn't work out for you you can bring it back to the store for a full refund. With this they have the same money back guarantee but you'd get back $15 of your $27 spent if you find the results less than satisfactory.
What do you think? Does Wheel Jelly work or not?