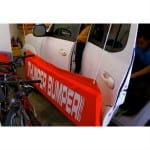 The Thumper Bumper is a pad that hangs in your garage which prevents your car's door from hitting your other car and causing a ding, scratch, or chip. It seems like a simple enough concept, but let's see how well this is manufactured and whether it's working for buyers.
Overview
This is a classic case of a First World Problem, but it needs to be dealt with nonetheless. In many instances there's just not a lot of room left to spare between cars in the garage, or between your car and other objects like bikes, mowers, and tool shelves. It can be a real pain having to deftly slide in or out of your car, and can even require becoming a bit of a contortionist. You might even end up throwing your back out in an effort to preserve the paint job of your favorite ride.
The Claim
The makers of the Thumper Bumper say that because of the material it is made out of you will be able to open your car door and have it bump right up against your other car without doing any damage to either vehicle. It's a way of putting a foam cushion between your car and anything else in your garage that might do it harm.
The Hype
There is an infomercial with this, but it doesn't really hype the product up too much, it basically just shows it in action, and shows how it does what it does. They do their best to try and rationalize the price by stating that you could easily spend hundreds of dollars fixing dents and dings at the body shop caused by your own mistakes.
The Cost
The price for the Thumper Bumper is $30 plus shipping. They have a 60 day guarantee in place, which is twice as much time than what is typically given on these types of products. This gives you a nice evaluation window and the guarantee actually means something because the product cost is far greater than the shipping cost, so the company has a vested interest in providing a quality product you won't want to return.
The Commitment
All that's required is for you to install this, and after that it just works without you having to do anything. It really is one of those set and forget kind of products where you can let it do its thing once it's in place. Installation is easy enough with the included supplies and instructions, and it's designed to fit most any garage.
Evaluation
They overbuilt this so that it's made out of durable materials and you'll be able to get years of use out of it, even if you're banging your door up against it every day. It may look a bit strange at first, but if you've been trying to figure out a solution to this problem you've probably come up short. There's just not much else that can be done that will provide this level of protection. At first we were a bit skeptical because of the way it hangs down. Wouldn't that get in the way and be a big hassle, especially if you're trying to carry something. But after seeing it in use it is easy enough to just bump it out of the way.
There's only so many different possibilities for a solution here. You can let everyone out of the car before pulling into the garage, or wait until you've pulled out of the garage before having everyone get in. But what happens when it's raining, snowing, or there's other inclement weather? Aside from that if you've got a nicely cleaned and organized garage and it's still not enough to get into and out of your car easily, this is one of the few possibilities that exist.
There are a few ways they could have screwed this idea up: by not using quality materials, and by not making the installation easy. But they've covered both of those so we're giving it the green light.
Final Thumper Bumper Review
Overall we're giving the Thumper Bumper our Thumbs Up rating. It may not be the most eloquent of inventions but it gets the job done. At first we thought it might get in the way just as much as it helps, but it doesn't, it is placed right where you need it and is easy enough to maneuver around when getting into and out of the car. If only you could bring your Thumper Bumper with you to parking garages and shopping centers so that you can have this sort of protection everywhere!
Our Recommendation
If you're tired of smacking your car door against your other car or other items in your garage, this may be the solution for you. It installs easily enough, and if your garage has visible crossbeams you can even tuck it up there so it's out of the way when you don't need it.
What do you think? Does Thumper Bumper work or not?