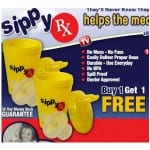 The Sippy Rx is a special sippy cup that has a reservoir in the lid that holds liquid medication and is designed to deliver it to your child without them having to taste it. This would help many parents administer medicine of all types but how well does it actually work?
Overview
Certain medications can taste really bad, and if your child's cold is making them cranky as well you might have a bear of a time giving them what they need. Medicines only work if they make it into their system, so if they're spitting it out, or moving their heads so that it's spilling all over their chin and shirt, it's not going to get the job done. With this product you are craftily sneaking it with a drink they like, but not mixing it together to make their drink taste bad.
The Claim
The makers of Sippy Rx claim that the unique design of the cup makes it so the medicine is delivered further back on the tongue to it avoids the taste buds. This means that your child only tastes the beverage that is in the actual cup, and not the medicine.
The Hype
Of course this product appeals to a parent's strong desire to do what's best for their child, and also promises an easier way to give medicine to your child. At the same time it is basically just showing how the product is used. It may be exaggerating a bit by showing kids drinking their drinks with no sign at all that they're tasting medicine. There's a chance that they'd still be able to taste some of the medicine, especially if they like to hold their drink in their mouth before swallowing.
The Cost
The Sippy Rx is $26 which includes shipping. This includes a second cup for free, with no additional shipping costs being applied. That is a big because it's a real 2 for 1 offer and gets you two cups so you can have one in the dishwasher and still have one available for use. This is much more than an ordinary sippy cup, which is understood as it has a special use. There really isn't anything else to compare this to price wise, as we haven't seen anything quite like it. The 30 day money back guarantee is in place so if it's not what you're expecting you can send them back and get $20 back.
The Commitment
The major selling point for Sippy Rx is that you'll have much less hassle giving your child medicine. In fact, you may even be able to give it to them without them even knowing. If it's a constant battle when it comes to medicine time you will likely notice an improvement in that area, and if you play your cards right there won't be any more "medicine time" events going forward.
Evaluation
It's a pretty interesting design being employed by the Sippy Rx. They have a special top of the cup that holds the medicine. The spout of the cup is designed so that there's a longer piece that the medicine comes out of. To your child it feels and works like a regular sippy cup. But what's really going on is that the medicine is being delivered to the back of the tongue, where there are fewer taste buds, so it's not like the medicine gets dispersed all throughout their mouth like it does when given with a spoon.
It's really smart the way this works, because the beverage and medicine don't mix, the beverage is used to wash the medicine right down so they likely won't taste it, but may have a little residual aftertaste.
One thing to consider is using the Sippy Rx as their sippy cup all the time. This is because they might figure out that something is up if they are only being given it when they are sick. A lot of the success of this rests on being a bit sly and not really letting them know what's going on.
It's nice that they're using FDA approved materials, and that there are no BPAs. They seem to have a pretty good handle on what parents would want for their children.
Final Sippy Rx Review
The Sippy Rx is getting our Thumbs Up rating. The design and quality of the product are both great, and the concept is a solid one. Early reports show that this works well in real world situations, and of course it has a guarantee in place if you find that it's not working the way you anticipated.
Our Recommendation
If you've had trouble in the past giving your child their medication, this could be one way to make things much easier. If they are sippy cup age then you'll likely have no trouble handing them their sippy cup and letting them drink their usual beverage from it.
What do you think? Does Sippy Rx work or not?