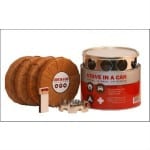 The Stove in a Can is a portable stove that promises that it will keep you warm, cook food, heat water, and more whether you're in a survival situation, or just roughing it outdoors. But what are actual users saying about how well it works?
Overview
Trying to make a fire out in the woods can be a bit tricky at times, and it can be a pain dragging a grill around, and that might not even be an option in some cases. This is presented as a lightweight way to have a fire available whenever you need it, and for whatever reason you need it for.
The Claim
The makers of Stove in a Can say that their system has everything you need in order to make a fire just about anywhere. The can part is said to be reusable up to 10 times, and the fuel cells are said to be able to be store indefinitely and don't contain any hazardous materials like lighter fluid or gas. They say it's made with natural ingredients like wood shavings and wax.
The Hype
This is one product that doesn't really need to be hyped, as watching it in action is pretty convincing that it works, and it's not too hard to come up with situations where this would come in handy. You probably have your own list of ways you'd use it if you had it, and you're just trying to figure out if it works or not.
The Cost
The Stove in a Can kit is $30 and comes with a 4 pack of fuel cells, the things that make the fire go. Since you're getting $15 worth of fuel cells you're paying roughly $15 for the can and the other accessories that make it all work. It's $23 for a pack of 6 fuel cell refills. That boils down to a little less than $4 per fire as an ongoing cost of ownership. It's pretty economical compared to other grill and stove options for when you're outdoors or at parks.
They also offer survival bundles for 2 weeks up to 3 months. These provide enough stoves and refill packs so that you could use the stove once per day if needed and be able to make it through those times with fire and heat for food and general warmth.
The Commitment
This is very easy to use, and doesn't require too much from you in terms of setting it up and getting the fire started. Compared to using flint or rubbing two sticks together it's a clear winner.
Evaluation
One pretty cool feature of the Stove in a Can is that the fuel cells are waterproof, so even if you're in the middle of a storm and everything around you is sopping wet you'll be able to start a fire that can help warm you up, and cook a hot meal. This is one easy thing to toss in the trunk for a backup way of cooking, or just to have in case of an emergency.
Some of the video evidence of this working is pretty convincing. Here's a video that shows it working quite well and also gives some nice pointers on where it's appropriate to have an open flame like this and where it's not:
The one concern is in how reliable the fuel cells are at getting a fire started. If you're using this as your only means of cooking, or storing it away for a survival situation, you'd want to be sure that it's going to work every single time. They say that you are able to store the fuel cells for as long as you want and they'll still be good and ready to use.
Final Stove in a Can Review
Stove in a Can gets our Thumbs Up rating. It is a practical way to get a fire going so that you can quickly and easily be cooking foods of all types. There's a lifetime guarantee on the product even after the 30 day window passes. They will replace any defective product no matter how long you've had it as long as it has been used as directed. Keep in mind that the can itself is only good for about 10 uses and will eventually need to be replaced. The nice part about that is the can can be recycled.
Our Recommendation
This is great to have around either "just because" or as part of a survival kit, for camping trips, or park visits. It's much more portable than other grills, and it's easy and fast to get a fire going so it doesn't require a great deal of patience. It's priced right, and the company is doing its best to establish themselves for the long-term so that you can continue to order from them in the future.
What do you think? Does Stove in a Can work or not?