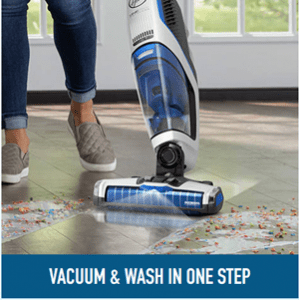 The ability to make housework quick and easy is attractive to most people. The Hoover One Pwr System is the ultimate small cleaning appliance that can save a lot of time.
Overview
The Hoover One Pwr System is an all in one cordless hard floor cleaner and area rug refresher. You can vacuum and wash the floors at the same time.
The Claim
The claim about the Hoover One Pwr System is that this unit saves time and energy. It is a one-step cleaning system. The microfiber brush works gently on sealed hard floors.
The Hype
The hype about the Hoover One Pwr System is that vacuuming and washing floors can be done in only one step. It is safe to use on wood, tile, laminate, and area rugs.
The Cost
The cost of the Hoover One Pwr System is one payment of $299.95 or 5 monthly payments of $59.99. Shipping is free. It comes with a 30-day money back guarantee. It also has a 2-year preferred limited warranty.
The Commitment
The commitment to using the Hoover One Pwr System is educating yourself on
using it properly. By reading the operation manual, you will learn how to most effectively use this amazing product. Ensuring the batteries are always charged will save time. Fully charged batteries will always be ready to go when you are. Purchase additional cleaning solutions, so you always have some on hand.
Evaluation
The Hoover One Pwr System is an amazing idea. This unit allows people to save time while cleaning. The ability to vacuum and wash floors is a great invention. It is also a great deal, as many items are included with the purchase. It also comes with an additional battery so one can always be on charge while the other is in use. The multi-surface cleaning solution can be used on wood, tile, laminate, and area rugs. No need to purchase separate solutions for different flooring. The convenience of this product being cordless eliminates the need for electrical outlets while using it. This product also picks up wet and dry messes.
Final Hoover One Pwr System Review
We are going to give the Hoover One Pwr System a thumbs up. There have been 2,198 positive reviews on this item. One customer stated that she used this unit on recently scrubbed floors and was amazed at what came off the floors. This unit is amazing. Another customer stated that cleaning her floors has now become fun. Vacuuming and cleaning floors have never been so easy. Another customer was very impressed at the fact the floors are not drenched when finished. Another customer stated she used it on freshly grouted floors, and it took the haze right off.We would highly recommend the Hoover One Pwr System. It is a great product that has multiple raving reviews. It is convenient and easy to use.
Our Recommendation
As an alternative you may want to check out the Spin Maid.
What do you think? Does  the Hoover One Pwr System work or not?