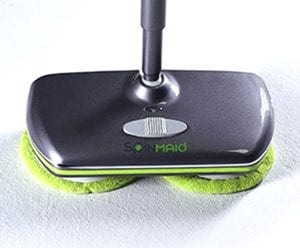 Cleaning and polishing floors is no easy task and it is one that never seems to end. For this reason many people try to find cleaning equipment and products that are going to make the job a whole lot easier, and there are plenty of them to choose from. One of these may be the Spin Maid.
Overview
If you were to show a picture of the Spin Maid to your Mother or perhaps even further back to like your grandmother, they would likely tell you that the Spin Maid is not a new concept. They probably had a unit like this years back but not nearly as modern looking or as lightweight. Basically you are using motorized sponges that absorb the dirt as you are cleaning your floor.
The Claim
The Company claims that the Spin Maid can be operated for a full hour before needing to be recharged. They say that the sponges draw out and collect the dirt. The various sponge heads that come with the unit are washable.
The Hype
Not having to wring out a mop and carry buckets of water around with you may be a real bonus. Plus the motorized functions of the Spin Mop do all the heavy scrubbing for you.
The Cost
The cost for Spin Maid is $49.98 plus $5.99 shipping and handling. With your order you get 2 Micro Fiber pads,2 sponge eraser pads and 2 scruffer pads. If you want to add an extra $10.99 you can get the attachable spray bottle and hostler that straps onto the Spin Maid.
The Commitment
The real work will come in deciding which attachments to use which is easy enough to do. You will need to change these according to the task at hand. If you need some heavier cleaning then you will want to use the scrubber pads, and then change these if you are going to polish.
Evaluation
The Spin Maid is basically a lighter and home orientated version of the professional floor cleaners that you see in the industrial cleaning industry. You certainly wouldn't want to rely on it if you were sopping up a lot of water or mud. For everyday floor cleaning and polishing it may be just what you need
Final Spin Maid Review
We are going to give the Spin Maid a Thumbs Up rating. This is provided that you are going to use it for just average floor cleaning and polishing. What we like about it is there is not constant bending or having to wring out water laden mops. For those that have disabilities it may make floor cleaning a whole lot easier. We also like that it is rechargeable and you can buy extra pads for it. Plus, the ones you get you can clean.
Our Recommendation
Floor cleaning can be such a nasty task that we have done several reviews on different types of floor cleaners to see if there is one that will make the job easier for you. Aside from the Spin Maid that we have just talked about we did a review on the Spin Mop which you might want to check out.
What do you think? Does Spin Maid work or not?