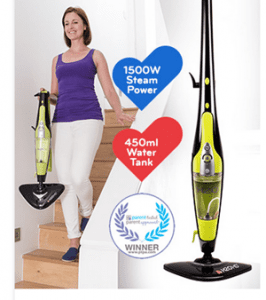 When it comes to house chores there are plenty of them to do. One that is ongoing is cleaning the floors. This also means that there are plenty of products and resources to choose from to help with this. One of these may be the H20HD.
Overview
The H20HD is an advanced steam cleaner that serves a lot of different purposes for floor cleaning. It also can be used for other types of cleaning jobs.
The Claim
The promoters of the H20HD make a lot of claims about this product. The two main ones are that it makes some of the cleaning chores around the house quicker and easier. There is quite an impressive list of what the H20HD can be used for which includes cleaning a variety of different types of floors, sanitizing carpets, cleaning grout or even cleaning that nasty barbecue grill.
The Hype
The hype that comes with the H20HD is its versatility for being able to be used for a variety of different cleaning chores. It can convert to a hand held unit which makes this versatility possible.
The Cost
The cost of the H20HD is $299.70. Some offers may allow payments in instalments.
The Commitment
The commitment for the H20HD really comes down to your determining if this product is something that you are really going to use. Keeping in mind that you are paying for a unit that can be used for a variety of cleaning chores. If you are only going to basically use it for one then is the price of it worth it?
Evaluation
Cleaning with steam is something that a lot of people are keen on. They believe that the heat from the steam does a better job at removing dirt and grime and sanitizing. Although the H20HD can be used for a variety of different purposes the main focus for buyers is for its ability to clean floors. The promoters make it clear that it can not be used for this purpose on floors that are not sealed such as unsealed hardwood or unsealed laminate floors. The H20HD is the Thane brand mop and there is a H20 version offered on Amazon but the reviews date back to 2010. For this specific model the feedback was not very good giving it only a 2.8 rating out of five. But the H20HD is being promoted as a newer and better steam cleaner. When you purchase this unit it comes with many of the accessories as a kit but there is an option to buy additional accessories.
Final H20HD Review
We are going to give the H20HD a Try/Buy rating. Simply because there is not enough feedback yet to vouch for its credibility. Also because the previous version was not all that popular.
Our Recommendation
If steam cleaning is something that you are really interested in be sure to check out our summary of steam mop reviews.
What do you think? Does the H20HD work or not?