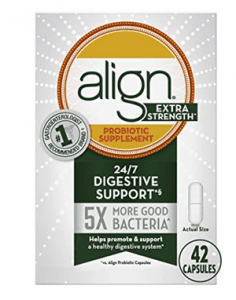 Most people want to enjoy their lives by feeling good and be able to enjoy good health. There are a lot of over the counter drugs that may help with this. There are so many in fact that they can get overwhelming. One area of concern for many is their digestive health. Some that are intent on enhancing their health in this area are turning to probiotics. While there are many brands one that seems to be quite popular is Align Extra Strength Probiotics.
Overview
Align Extra Strength Probiotics is as the name implies a probiotic. It is comprised of a probiotic strain that is patented which is is the Bifid bacterial strain. Like all probiotics, the purpose of the product is to supplement the digestive system with the right type of bacteria. Many people don't realize that there is good and bad bacteria that exist in the digestive system. The good bacteria is needed for the promotion of digestive health.
The Claim
The promoters of Align Extra Strength Probiotics claim that this product provides 24/7 digestive support and only one capsule a day is needed. It can be used by both men and women, and they are claiming that it contains 5x more good bacteria. Not only will it help to get the digestive system in good condition it will help to keep it that way.
The Hype
The hype for Align Extra Strength Probiotics is that it works from one dose to the next and it contains an extra amount of good bacteria.
The Cost
Align Extra Strength Probiotics will cost somewhere around $46.39 for forty-two tables. Which is a reasonable price considering only one tablet a day is needed to get the desired results.
The Commitment
The commitment for Align Extra Strength Probiotics is to become dedicated to taking them each and every day. All too often with supplements like this, some people tend to be committed to diligently taking them everyday then this peters off after a period of time. Then they just take them when they remember them. This is not going to promote good gut health when they are taken intermittently.
Evaluation
There are so many probiotics on the market now it is hard to separate the good from the bad. The only way this can be effectively done is by paying attention to those who have gotten numerous reviews and ones that are positive. There is information to support this for Align Extra Strength Probiotics. Out of 446 customer reviews, this product has received a 4.3 out of five-star rating. Among this group, 71% have given a five-star rating. This is pretty good for a product that is dealing with health.
Final Align Extra Strength Probiotics Review
We are going to give the Align Extra Strength Probiotics a thumbs up. There is enough feedback to support the many claims it is making. It is reasonably priced and a lot of health care providers promote using probiotics for enhanced gut health.
Our Recommendation
If you are interested in other products that have similar qualities then check out our probiotics section.
What do you think? Does the Align Extra Strength Probiotics work or not?