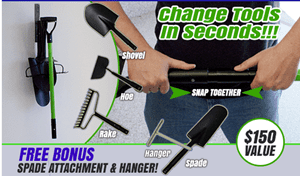 For those who enjoy gardening, they want to be sure that they have all the tools and resources on hand to assist them. The problem is there are so many new tools and gadgets on the market; it is hard to keep up with them. For those who are looking to replace some of their old tools, or are just starting into gardening they may be interested in the Garden Money
Overview
The Garden Monkey is being touted as the all in one gardening tool system. This alone is a big attraction for gardeners who don't want to have to deal with a bunch of separate tools. The Garden Monkey is comprised of a shovel, hoe, rake, hanger and spade.
The Claim
According to the promoters, the different components of the Garden Monkey simply snap together as interchangeable pieces. Overall there are four in one garden tools that are sturdy and easy to handle.
The Hype
The hype that comes with the Garden Monkey is that they are a big space saver. It is also an ideal way of keeping all the necessary garden tools together. The small tools used for gardening often get misplaced. Or they don't get stored properly, and they end up getting damaged.
The Cost
The cost of the Garden Monkey is $79.95. Plus $9.95 shipping and handling which is pretty reasonable when you consider it is four tools in one.
The Commitment
The commitment other than having to do your garden work is no different except you will be using the Garden Monkey. It has a push button lock system so once you have chosen the tool you want and have locked it in then it will remain in place.
Evaluation
Those that are impressed with the Garden Monkey like some of its prominent features. Like the tools are light weight, and they store in one easy, convenient manner thanks to the holding rack that comes with it. Other than the testimonies that are on the Garden Monkey website there isn't a whole lot of feedback about the product. Overall the concept of having a four in one unit like this is a good idea. There are a lot of people who just don't have a lot of storage room for their garden tools. This benefit alone is one that is enjoyed with the Garden Monkey. Aside from this, there are no useless tools or ones added just as fillers. Each of the tools are important ones and those which the average gardener will use regularly.
Final Garden Monkey Review
We are prepared to give the Garden Monkey at this time a try/buy as it hasn't been supported with a lot of independent reviews as yet. Overall the price is reasonable if you consider the cost for each of the tools separately. Then the storage concept is a real plus.
Our Recommendation
There are a lot of suggestions we could provide you with when it comes to outdoor work and gardening. One that you may be interested in is Garden Genie which is a pair of garden gloves that act like mini garden tools.
What do you think? Does the Garden Monkey work or not?