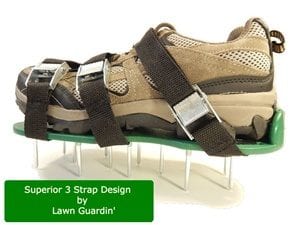 There are many different ways to keep your lawn looking at its best, but this can be time consuming and sometimes expensive. One task that can be made a whole lot easier and less expensive is the aeration of the lawn and that's with the Extra Sturdy Lawn Aerator Shoes.
Overview
The Extra Sturdy Lawn Aerator Shoes are designed to allow you to aerate your lawn without having to rent a machine or hire a contractor to do it for you.
The Claim
The claim is that by wearing these shoes with spikes attached to the bottom and walking around on your lawn they will aerate your lawn for you and allow you to get some exercise. It will also help the environment by not having to rent a gas powered machine or hire a contractor who will also use a machine to do the job.
The Hype
The hype is that the Extra Sturdy Lawn Aerator Shoes are designed with 3 solid straps to prevent the shoes from slipping off or getting stuck while you aerate your lawn. Also, the aeration that these shoes provide will help your lawn become lusher and greener by helping to loosen the soil which allows the roots of your lawn to become much stronger and healthier.
The Cost
The cost of the Extra Sturdy Lawn Aerator Shoes is only $24.99. A pretty reasonable amount when you consider that even renting a machine to aerate your lawn will cost more than that for a one time rental and hiring a contractor will also cost more $24.99 and again that is for a one time hiring and aeration.
The Commitment
The commitment is rather minimal; you simply store the shoes in the garage or garden shed when not in use. They are very small and will take up a minimal amount of space.
Evaluation
We really like the Extra Sturdy Lawn Aerator Shoes. Understanding exactly how important it is to aerate your lawn if you truly want a lusher, greener and by far healthier lawn makes these a no brainer to own and use. The 3 solid straps ensure that these will not fall off or become stuck in the lawn when you are using them. Having said that, if the lawn is really wet or damp at the time of use you may well become stuck by virtue of the mushy lawn, but that is not an indictment of this product as it will happen no matter what you use on a wet lawn. The holes created by the solid spikes on these shoes are the perfect size for a good lawn aeration as opposed to some who have much smaller spikes. You do get some exercise while using them but it is not enough to really make a difference but at least it is a bit fun and is environmentally friendly as you negate the need for a gas powered machine to aerate your lawn. All in all a great idea and product that works very well.
Final Extra Sturdy Lawn Aerator Shoes Review
The final analysis of the Lawn Guardin Extra Sturdy Lawn Aerator Shoes are a great product for helping your lawn look lush and green and become healthier and stronger while helping the environment. They are easy to use and extremely well priced and that makes it easy to give them a thumbs up!
Our Recommendation
Finding inexpensive ways to keep your lawn in good shape will bring you great satisfaction in not only getting the jobs at hand done well, but save you some money while doing it. Another product to help you with your lawn and garden work is the Garden Genie.
What do you think? Does the Extra Sturdy Lawn Aerator Shoes work or not?