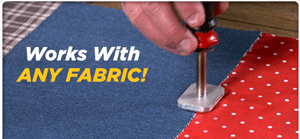 The ability to mend clothing and other material items without having to sew is amazing. This can be used by women, men, and teens. The No Stitch product is so easy to use.
Overview
No Stitch is a revolutionary alternative to sewing. It is the easiest way to repair clothing.
The Claim
The claim to No Stitch is that anyone can repair clothing with this product. Repairs are permanent, quick, and easy.
The Hype
The hype about No Stitch is that the product works on any fabric. It works on heavy denim and even silk. No need to pair for alterations, as this product even works on hemming.
The Cost
The cost of No Stitch is $19.99. Receive a 2nd No Stitch for $6.95. There is no shipping fee. Applicable sales taxes will be applied. It comes with a 60-day money back guarantee.
The Commitment
The Commitment to using No Stitch is to follow the instructions provided. As with any product, it's best to understand its use. The great thing about No Stitch is that if you make a mistake, it can be fixed.
Evaluation
No Stitch is a great idea. It is so easy to use, virtually anyone can use it. It is a great time-saving alternative to sewing. All you have to do is sprinkle the magically formulated adhesive powder on the fabric then apply the heat wand. It adheres in seconds. You can fix torn clothes, hem clothing, and repair seams. The No Stitch is also amazing to use on heavy upholstery and drapery. Save a lot of time and money repairing items yourself. If you make a mistake, just reapply the heat wand, and it comes undone. This product is so strong it will never come loose or dissolve in the wash. This great product eliminates the need to purchase expensive sewing machines and accessories. Repairs can be made pretty much anywhere you have access to an electrical outlet. Take it with you on vacations in case emergency clothing repairs need to be done. Save money on repairing items instead of purchasing new items.
Final No Stitch Review
We are going to give No Stitch a thumbs up. This is a great money and time-saving product. It is also a safer method than sewing. There is no need to search for matching thread for the fabric. No thread is required. It is a great product to teach children how to mend items in a safe manner.We would recommend No Stitch. Any product that can save you time and money is a worthy purchase. Many people cannot sew and have to pay for repairs and alterations or purchase new items. The ability to make your own repairs is a huge advantage. There is no waiting time to have items repaired or altered; you can do it right away at home.
Our Recommendation
If traditional sewing is still your preference then check out this portable sewing machine.
What do you think? Does No Stitch work or not?