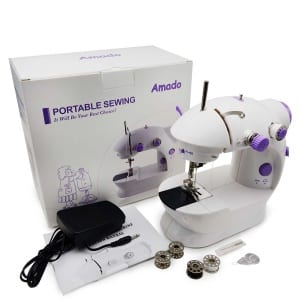 There are a lot of clothing repairs that can be done if one has the right equipment to work with. This usually includes a sewing machine, but these can be expensive to buy. A mini version of this sewing tool would be ideal like the Amado Portable Sewing.
Overview
The Amado Portable Sewing is a mini version of a standard type sewing machine. It is far less complex and much easier to operate compared to the standard versions. It can be used for a lot of the basic sewing tasks that a normal sewing machine would be used for.
The Claim
The promoters of the Amado Portable Sewing claim that it is lightweight so it is totally portable. They also say that the speed for sewing can be controlled which is great for those that are new to using a machine for sewing.
The Hype
The hype really focuses around the Amado Portable Sewing being a unit that is lightweight and easy to use, and can be used almost anywhere. Plus, for basic sewing needs it is far more cost effective when comparing prices of the Amado Portable Sewing and a standard sewing machine.
The Cost
The cost of the Amado Portable Sewing is $27.77.
The Commitment
The commitment for the Amado Portable Sewing is going to come with you making sure that you make it a habit to use it whenever you have a light sewing task that needs to be done. Don't just put it in a drawer and assume it is too much of a hassle to take it out and use it. Once you begin to rely on it as it is meant to be then the Amado Portable Sewing unit will probably become one of your most favorite devices.
Evaluation
There is definitely a need for the Amado Portable Sewing unit. There are always sewing jobs that need doing and doing these by hand is cumbersome and doesn't always present the best results. What you are probably going to discover is that you will do more sewing now than what you ever did before. Instead of being tempted to toss items that need a small sewing repair you will be more inclined to repairing them.Also, don't be fooled by its small size. It has two power sources one being a button and the other a foot pedal, just like you would have with a standard sized sewing machine.
Final Amado Portable Sewing Review
One of the concerns with the Amado Portable Sewing unit being so small and so reasonably priced is whether the quality would be there. However, the Amado Portable Sewing unit has become a best seller on Amazon, and out of 663 reviews it has a 4.5 star rating. The Amado Portable Sewng unit can be used for small lightweight sewing projects and it is not just capable of handling small sewing repairs. Do keep in mind this is not a toy so keep it away from the little ones.
Our Recommendation
The Amado Portable Sewing unit is perfect for those who don't really need a heavy duty sewing machine, and don't have a lot of space for this style. There is another alternative to the Amado Portable Sewing unit and it is the Handy Stitch.
What do you think? Does Amado Portable Sewing work or not?