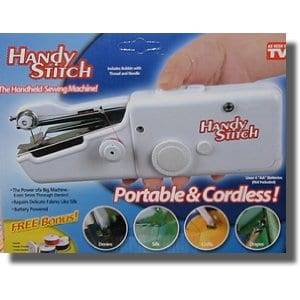 The Handy Stitch bills itself as a handheld sewing machine, allowing you the flexibility to maneuver the sewing machine where you want it, rather than having to manipulate the clothing article to fit the machine.
Overview
If you've ever had trouble with a sewing machine you will appreciate that there are companies trying to solve the problems. Struggling with a big, bulky sewing machine can really be a pain, and being able to quickly put the machine where you want it is a big advantage.
The Claim
The makers of the Handy Stitch say that you'll be able to sew without a cord, giving you the freedom and the flexibility to sew all sorts of different items. They also say that with just 4 AA batteries it's able to rival the power of larger machines. This is perhaps one of the bigger claims, because we've seen time and time again that battery operated devices just don't pack the punch of corded ones. For us, this is a red flag and we'll go into greater detail on whether or not it lives up to this claim.
The Hype
Like any product that has an infomercial backing it, there will be some hype surrounding it. That's because they depict it working flawlessly on the video, so you're led to believe that you'll have a similar experience when you unbox it at home. Many times though there is a gap between how it looks on TV and how it performs in the real world. You can't fault a company for shedding the best light they can on their product, but some go too far and the majority of users say that this falls far short of the mark set by its ad.
The Cost
This is what likely draws many people to at least try it, because it's set at a price that makes it easy to own. For less than $20 you get the entire Handy Stitch kit and are ready to start with it.
The Commitment
The premise behind this device is that you'll be saving time on your sewing tasks because it frees you from having to sew thins manually, and sometimes you have items that are too small to justify using a big machine, but too large to sit and do it by hand. This is meant to be a good compromise, knocking out all of the medium sized projects you have and getting you your time back.
Evaluation
The 4 AA batteries gives this some weight, so it feels solid in your hand. There are issues with the craftsmanship, with some saying that the needles break easily on it. There are others that say it has design flaws, leaving behind loose stitches, or that it doesn't hold the stitching. Some have even said it's better to simply stitch things up by hand than to fuss with this, but the whole point of buying it is to save you time from having to do it by hand. Or it is supposed to save you from learning how to sew manually. Either way it's not getting the job done.
Anytime we see a product get universally panned we're often asked: but what about those that tried it and like it, since there are always a few people giving it a thumbs up when everyone around them is giving the thumbs down. In those instances it could be that this person needed it for a specific task and had their expectations set at the right level. We've learned that it's never a good idea to base your decision off of one or a few personal reviews, as these mean very little when looking at the bigger picture. There's always anomalies that shouldn't be factored into the final answer.
Final Handy Stitch Review
The Handy Stitch is getting our Thumbs Down rating, and it's best to avoid this even at its low price point. The overwhelming number of people that dislike their experience with it is impossible to ignore, and unfortunately it's back to the drawing board in regards to the best way to get smaller sewing projects completed. The search for a reliable and portable sewing machine continues, and we'll keep our eyes peeled for anything that deserves a review.
Our Recommendation
We scoured the Internet for a handheld sewing machine that actually works. We weren't able to find one, although there are several companies that have made an attempt at it. The closest thing we were able to find is a smaller sized machine that doesn't quite give you the ultimate versatility of holding it in your hand, but it's easier to put it where you need it. It's the Sew Advance Sew Affordable machine by Brother. It is packed with features and accessories to tackle just about any project, gets great feedback, and at $85 is priced below many of the bigger models.
What do you think? Does the Handy Stitch work or not?