The Handy Stitch bills itself as a handheld sewing machine, allowing you the flexibility to maneuver the sewing machine where you want it, rather than having to manipulate the clothing article to fit the machine.
What is Handy Stitch?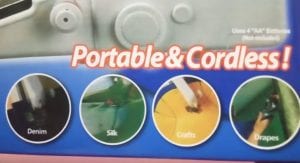 Handy Stitch is a cordless handheld portable sewing machine. It is battery operated and very easy to use. Handy Stitch is an As Seen On TV product.
How Do You Use Handy Stitch?
Handy Stitch is very simple to operate. This device makes simple sewing tasks quick and easy. It eliminates the need for complicated full-sized sewing machines. This handheld quick stitch sewing machine can be easily manoeuvered to complete sewing tasks. Users have more control with the handheld unit over the full-sized sewing machines. They have the ability to put the machine exactly where they want it.
Advantages 
There are many advantages of owning and using the Handy Stitch. Some advantages are:
It's easy to use
It's cordless
It only requires 4 AA batteries to power it
It's compact
It's easy to store
It can be easily packed in a suitcase for traveling
It provides user control
Cheaper than full-sized sewing machines
Eliminates the need for sewing by hand
The handy stitch can be conveniently used virtually anywhere. It is handy to use at home, the cottage, the office, while traveling, and even while camping. This device is said to have the same power as full-sized sewing machines.
Handy Stitch Uses
The Handy Stitch has many quick and convenient uses. Due to its portability users can repair or hem curtains while they are hung, something that can't be done with a full-sized sewing machine. The handing stitch is so compact you can take it anywhere with you to handle repair emergencies that may arise. Handheld portable sewing machines do not have all the features as full-sized sewing machines but are great to have on hand for emergencies and timely repairs.
Handy Stitch Features
The Handy Stitch has basic features that make this small machine extremely easy to use. There are no complicated features that are typically found on full-sized sewing machines. This device is used for basic sewing needs, so you don't have to be a skilled seamstress to use one. The unit comes with 4 steel bobbins, 3 sewing needles, a needle threader and an extra spool pin for regular size threads. The Handy Stitch is suitable for small projects or DIY projects. The construction of this product allows sewing materials such as silk, leather, wool, denim and other materials. Easily sew jeans, trousers, skirts, shirts, blouses and pants. The handy stitch is lightweight and easy to hold.
Who Can Use the Handy Stitch?
The Handy Stitch is so lightweight and easy to use virtually anyone can use this product. This compact little sewing machine can be used by men, women, teens and seniors. It is a great tool to teach kids and teens the basics of sewing. Seniors can still maintain their independence of sewing and doing repairs to clothing and other household items as it is very light in weight.
Where Can I Buy Handy Stitch?
Unsplash
Handy Stitch is available for purchase online and in many retail stores. Handy Stitch can be found online at Amazon.ca, Amazon.com, Aliexpress.com, and Walmart online and retail stores. It is also available at As Seen On TV retail stores.
How Much Does Handy Stitch Cost?
Handy Stitch is quite inexpensive it can be purchased for $15.69 on Amazon.com and $13.04 on Amazon.ca. It is one of the cheaper handheld cordless sewing machines on the market.
Customer Reviews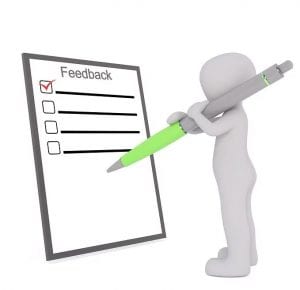 Handy Stitch did not receive very good customer reviews on Amazon.com. Customers rated this product 2.6 stars out of 5 stars.
Customers made the following statements regarding Handy Stitch:
"It is VERY hard to get the thread through the needle even with reading glasses on. That's the main problem"
"Received this item and it must be a lemon because it doesn't work. While the threaded needle goes up and down there's no other thread to make the stitch. I watched a good few you tube videos about threading it and using it and I did everything right but it just didn't sew and stitches."
"I was so excited to receive my "little sewing machine" until I started using it or should I say trying to use it. It was terrible. Very hard to thread and worst of all IT DIDN'T work. It ran for a few stiches and then would ball up on the underside of the fabric with a HUGE knot of thread. Save your money to protct your sanity. Aaaarrrgggg!!!"
"I thought that this product would be good to use to stitch things easily and quickly. It's probably the worst thing that I bought last year. I don't know if it was just my unit that sucked but it crapped out on me after the second use. The first time I used it I got so frustrated because it wasn't working right that I said I'll just do it tomorrow. The second time I used it, it started to fall apart. I do not think this is worth the money and if I could give it negative stars I would!"
Recommendation
The concept of the Handy Stitch handheld cordless portable sewing machine is ideal. However, unfortunately, according to the majority of customers that have purchased and used this product it does not live up to its perceived capabilities. The price point may be a give away to it's operating potential. There are several other handheld cordless sewing machines on the market that may be worth looking into. We find it is always important to read reviews prior to making purchases on products you are unsure of. Some of the other handheld sewing machines we have identified are:
RoyalSell Handheld Sewing Machine
MSDADA Portable Mini Handheld Sewing Machine
Singer Stitch Sew Quick
Mini Cordless Handheld Electric Sewing machine
Unilive Handy Electric Tailor Stitch
Or you may want to check out the Amado portable sewing machine as another option.

Keep in mind that these small compact handheld sewing machines are not meant to perform as larger full-sized sewing machines do. They can be used when you are in a pinch for emergency repairs. A lot of times it comes down to learning how to use a handheld machine properly.