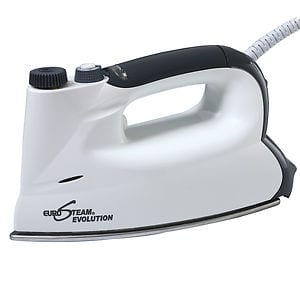 The Eurosteam Iron makes several promises that an ordinary iron just doesn't match. If you're fed up with ruining clothes or having them cleaned more than necessary, you probably are very interested in seeing if this really works.
Overview
An iron is a pretty simple device, and has gone relatively unchanged over the decades. The concept is simple enough: get a piece of metal hot enough to press out the wrinkles in clothing. The addition of steam helps the fabrics to loosen so the iron can do its work. But like most conventional products, there are some drawbacks to using it, ones that are often overlooked because a better option simply doesn't exist, or hasn't existed until now.
The Claim
The makers of the Eurosteam Iron say that every household should have one. They boast that it's the superior choice over your typical iron because it's made with higher quality materials and fixes many of the problems that come with them. Namely, it won't scorch or damage your clothes, and it will get the wrinkles out more quickly. They say that it has just one setting, and that this setting is suitable for all types of fabrics, which is a contrast to several irons on the market that require you to change the setting to match the fabric or risk ruining it in the process.
The Hype
The way they rave about this iron and its Italian design you'd think it did more than simply iron clothes. At the end of the day a wrinkle free garment is a wrinkle free garment and there's not much more a product can do than get the wrinkles out. While a cheap $20 iron might leave much to be desired there are plenty in the $50 range that provide reliable results without having to make substantial claims on their abilities. Sometimes you just have to take a step back and look at what others have said that have already made the purchase.
The Cost
The $300 price tag for a Eurosteam Iron is what likely puts most people off of buying it, but there is something to be said for getting what you pay for. The important thing to try to determine is if you'll end up getting an iron that works ten times better than a $30 iron. They try to make the case that you won't have to dry clean your clothes as much, and that your clothes will last longer than they otherwise would if you used an iron that is too harsh on them.
The Commitment
If this works as advertised it should make it easier for you to keep your clothes looking nice. You won't spend as much time fussing with the ironing and the results should be better. With the higher price tag, you'd want to commit to using this for several years, so not only would it have to provide good short term results, but it would have to be built to last in order to justify not buying a cheaper model.
Evaluation
When a product is priced so much higher than competing products it has a large mountain to climb to get potential buyers to go ahead and invest in it. The most common way to do this is to list several features in an attempt to raise the perceived value of the item to the particular price point. What we're seeing here is that they are hanging their hat on the ability of this iron to work on multiple clothing articles with just one setting.
Luckily we live in a day and age where we can easily communicate with one another, even if we're total strangers. We no longer have to take a manufacturers word that something works well, or let advertisements get the better of us. It's natural to get sucked into a product like this, especially if you've tried other solutions with no luck. But at some point you have to stop yourself and ask whether a device like this can really do a far superior job than anything else on the market, and if you'll use it long enough to make it a good buy.
All signs point to this being a risky buy, since expectations will be high, and feedback on it has been shaky at best.
Final Eurosteam Iron Review
The Eurosteam Iron is getting our Risky Try rating. At this price point the reviews need to be off the chart and heavily biased towards it working wonderfully. That's not what we're seeing and there is a serious love/hate relationship going on here, with a mix of those that love to use it and say it's great, and those that rue their purchase decision. When you're charging $300 for an iron you should be able to win over the large majority of those that plunk that sort of cash down on an iron.
Our Recommendation
There are some top of the line irons that clock in at a fraction of this price, and with many users saying that this is an overstated steam iron, you can find a highly reviewed steam iron like this one from Black and Decker for less than $50. It has the kind of feedback you'd expect from the Eurosteamer, but without the hefty price tag. It'd be hard to convince us that the Euro is 5 times better than the Black and Decker, or that it would last 5 times longer.
What do you think? Does the Eurosteam Iron work or not?