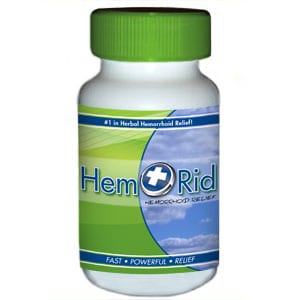 HemRid is an all-natural herbal supplement that says it can help you with your hemorrhoids in a matter of days, not weeks or months. Surely this caught your attention if you've tried other products and had no luck. So we'll answer the big question on everyone's minds, and bottoms: does it actually work?
Overview
A case of hemorrhoids can really put a halt to your regular daily activities. No matter how hard you try it's tough to keep them off your mind until they regress to the point of not hurting, burning, or itching anymore. Most treatments are hard to apply, and can take several weeks to get you back to total improvement. That's why there's a large audience out there for a product that can solve the problem in short order and with little to no mess.
The Claim
HemRid claims that their herbal solution goes to work on the inflammation that is causing the problem in the first place. They say that it not only provide relief in the short term, typically within a week, but also for the long term by preventing a resurgence and keep you free from hemorrhoids as you go along.
The Hype
Because those suffering from hemorrhoids are very motivated to clear them up, there isn't much need for hype in regards to this product. As far as the appeal goes, it's nice that this is herbal based, so the likelihood of a side effects entering the equation is lessened, although it's still a possibility.
The Cost
A bottle of HemRid is $44, with deal being had on multiple bottles being purchased at once. You can get the total price per bottle down to around $23 a bottle if you get their buy two get two package of 4 at $90. This is a pretty staggering discount, and unfortunate for those with a mild case of hemorrhoids that it costs nearly twice as much for just one bottle. It's backed by a four month guarantee, so you won't have to worry about evaluating it quickly and stressing about returning it with enough time to spare. Since it is supposed to work in days you'll have plenty of time to see how it's doing.
The Commitment
They say the turnaround time for its effectiveness is 4-5 days, so you should commit to that at least, and any extra time you can give it before writing it off would be better. With herbal remedies it sometimes takes a little time to get them into your system so they can start having an effect. You should follow the directions and take them as instructed, including the maintenance dosing to make sure that you get long-term relief from them.
Since all you have to do is take two or three pills each day, sticking to this is as easy as remembering to take the pills at the right time. Comparing that to a cream, ointment, or other hemorrhoid products that involve inserting frozen things on the spot, this is far less commitment.
Evaluation
Taking an inside out approach to treating the problem is a good idea, since that's where it's originating. Using topical creams in conjunction with this is advised for external hemorrhoids, but this seems to work fine by itself for internal ones. It's not strange for a product like this to have limited feedback because few people will come back and openly post that the product worked for them, even if they can do so anonymously. We're seeing some good things said about it, and some users saying it had no effect, which is also not surprising due to the subjectivity involved.
Final HemRid Review
We're giving HemRid the Solid Try rating, since it has shown to work well in many cases, but with so many different degrees of hemorrhoid cases out there there's simply no way to know for sure that it will work for you or not before trying it. Individual responses are worthless here because there are too many unknowns, and whether they are positive or negative doesn't really matter, as one or two people saying yes or no doesn't account for much. There is inconclusive data regarding a consensus, and this is why it's best to take them up on their guarantee and try it out.
They have all of their bases covered, with discreet shipping as you'd expect for a product of this nature, and customer service available by going direct through the company.
Our Recommendation
Getting a fix for your hemorrhoids requires a bit of diligence and a never-say-die attitude, or else the problem can persist for weeks on end. If you are tip-toeing around trying different solutions you need to take more of an experimental mindset and just start trying many different remedies to see what works and what doesn't. If you take that strategy we recommend adding this to your list of products to try.
What do you think? Does HemRid work or not?