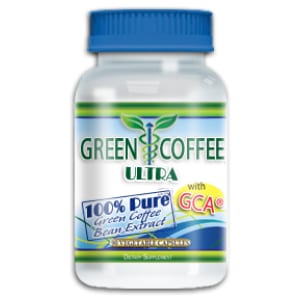 Green Coffee Ultra says that it contains more green coffee bean extract than several of the others you'll see for sale out there. But how do the ingredients really break down, and is this a product that is worth the price?
Overview
For a long time, diet pills mostly contained ingredients that were created by scientists and came with a long list of known side effects. Some of which ended up getting recalled and banned, as users were sent to the hospital or even died from taking them. In recent years the new trend is to use naturally grown plant sources as the basis for losing weight, and all sorts of items have been linked to weight loss, including raspberries, mangos, and green tea. These are supposed to be safer, since the extracts come from plant-based substances. Green coffee is part of this growing trend.
The Claim
The makers of Green Coffee Ultra say that they are providing the highest quality green coffee bean product on the market, and that they stand in stark contrast to the slew of other products out there that simply do not contain nearly the same amount of proven ingredients. They also say that competing products do not contain as much actual Chlorogenic Acid to give users the results that have been purported by sources like Dr. Oz and others. They go on to say that these products are not dosed correctly, and therefore won't give you the results they could if you were getting the right amount.
The Hype
Leave it to Dr. Oz to create an entire niche industry just by mentioning green coffee bean extract on his show. He's developed massive credibility after first appearing on Oprah and getting her blessing, and then branching off on his own show. His show is a mixture of simple health tips and health news, and every now and then he drops the name of some new extract and says it may be the key everyone has been looking for to finally lose weight easily and effortlessly.
The Cost
You can get the per bottle price down to $23 each for Green Coffee Ultra, or you can try a single bottle for $50. We've seen this sort of pricing structure several times with other diet pills. The concept is that if they set the single bottle price so high, and offer discounts on multiple bottles, you'll be more inclined to go for the savings and get more bottles at once. Behind this concept there must be a money back guarantee in place so that if you spend more on more bottles you can get your money back and send them all back. They do have this in place so it seems solid.
Evaluation
In their guide on how to pick the right coffee extract diet pill they say that you should check to see that what you're buying actually has in it what you're wanting, which is a pure source of green coffee bean extract. What is often sold to consumers is synthetically made is labs, which is not nearly the same thing as pure grown. They also say to look out for additives being used, and mention that what many companies will do is mix the coffee bean extract with other hot topic extracts like green tea, acai berry, and African mango. It might make it look sexier, but does not help the user as much as sticking to the original article.
They also say that you'll want to use a product that has enough of the extract per serving to make it worth taking. They claim that much of what you'll find out there only has half of the amount that will actually show results. They also say that you should check to see that it contains enough Chlorogenic acid, by being derived from GCA green coffee.
They're also spot on when it comes to what you should avoid when you're looking for a weight loss supplement like coffee bean extract or other naturally sourced extracts. They say to steer clear of free trials, and we agree because these are typically used to rope you in to more than you bargained for. We've often said that if a product is truly worth it, the company won't need to use sales tactics and gimmicks to make the sale.
We've also seen a lot of companies try to sell their diet pills using an auto-rebill set-up. This is pretty assumptive by the company that you'll want to reorder their product. If it works so well they wouldn't need to worry, you'd definitely be back again to order more when you run out.
An interesting point to consider is that they say to check the ingredients list for a proprietary blend. This is a way for a company to protect the actual combination of ingredients so they don't have to worry about the competition coming out with the same blend. But at the same time it can serve as a way for them to put pretty much whatever mix they want since they don't have to fully disclose what's in it. This might mean you're getting less than you've bargained for in the way of effective ingredients.
Final Green Coffee Ultra Review
If you're going to take a coffee bean extract, we're giving Green Coffee Ultra our Thumbs Up rating, as it puts to bed a lot of the concerns raised with the flood of products hitting the market thanks to the hype machine known as Dr. Oz. If you're sick of sifting through all of the rubbish that's out there, and have already tried a few of these with no luck, and even with side effects to show for it, this is worth trying out before giving up completely.
Our Recommendation
Diet pills can be an effective way to lose weight, not only for the placebo effect they have and the ability to change your behavior when you believe that they're doing something, but also for the ingredients they contain and the effect they have on your body. Many all-natural diet pills have been hitting the scene lately, and it's a matter of trying out the ones that make the most sense, show the most promise, and have these least amount of reported side effects.
What do you think? Does Green Coffee Ultra work or not?