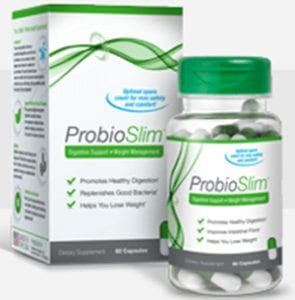 This is a product that is being marketed as being able to enhance weight loss by improving the digestive system. It is yet another weight loss supplement, so what is it claiming to do that makes it different?
Overview
ProbioSlim is a weight loss supplement. Its main focus is on improving the digestive system which in turn is supposed to aid in the help of fat reduction.
The Claim
The company is claiming that their product will help you to lose weight. They say that it helps to replenish the good bacteria that should be present in your digestive system.
The Hype
The hype is focusing on losing weight not only in a safe way but in a natural way. This is something that appeals to many who are trying to lose weight because they worry about some of the side effects that can come when using weight loss supplements. Even for those who don't use supplements they sometimes run into health issues while on a weight loss program. The promoters of ProbioSlim make it sound as though losing weight all comes down to merely taking this product.
The Cost
You can expect to pay $69.99 plus $9.95 shipping and handling.
The Commitment
It is not quite clear exactly how many of the ProbioSlim that you have to take on a daily basis, but according to some of the reviews it was suggested that one was taken in the morning and one at lunch.
Evaluation
Probiotics and Prebiotics seems to be the main theme of the ProbioSlim product. When looking into some of the reviews we weren't overly impressed with them. The product is being sold through several different dealers on Amazon. Some only have a few reviews. We came across one dealer that had 138 reviews which only resulted in a 2.4 out of 5 star rating. Another concern we had when trying to check out the science behind the product on the promo website the link led us to a blank page. However, the link to the testimonials was working fine. We were unable to find any scientific backup for the product.
Final ProbioSlim Review
We're going to give the product a risky Try/Buy rating. This is based on our findings that we talked about in our evaluation. Plus it is really difficult to try and determine an actual location for the producers of this product. The only contact source is through their contact page.
Our Recommendation
We urge you to proceed with caution if you decide to go for the free trial offer. Read the print carefully. By opting in for this free trial you will automatically be billed monthly unless you cancel within the specified number of days. This may mean that you will be paying the $69.99 on a monthly basis. The biggest advantage to ProbioSlim is it does contain natural ingredients like the Probiotics, Prebiotics and green tea. However, each of these components can be purchased separately at a much lower price. Also, probiotics may not be good for everyone. Previously we have talked about a fair number of weight loss supplements. One that we focused on was also one that aided with the digestion called AbsorbMax. So far there is not much feedback on this particular product either.
What do you think? Does ProbioSlim work or not?