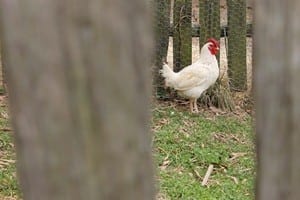 You may be wondering why you would even what to build a chicken coop, or if its possible. You will be surprised to learn about the amazing benefits of this type of project.
Overview
A lot of people are getting tired of the high prices they are paying for foods, and eggs are one of them. Plus, many are looking for a more natural and healthy way of eating which comes down to organic. So when it comes to eggs you have the choice of paying an escalated price for the organic ones, then taking a chance as to whether they truly are organic. The problem solver is How to Build a Chicken Coop, so you can have your very own chickens and as a result your very own fresh eggs.
The Claim
The Company claims that their plans for How to Build a Chicken Coop is a real do it yourself project that is quick and easy and works well for housing the chickens in a safe manner.
The Hype
The fact that anyone can use the How to Build a Chicken Coop Plans because they are so easy to follow is one area of hype. There are a lot of things that have to be taken into account when building this type of housing for the chickens, and the promoters of these plans have taken all the guesswork out of doing this. This appeals to so many people that are now interested in being able to have their own fresh egg supply.
The Cost
You pay a low price of $29.95, and can download How to Build a Chicken Coop as soon as you have paid for it. Plus you get some really good bonuses. You will get, How to Best Position Your Chicken Coop,How to Build Nesting Boxes with Common Materials,The Best Materials for the Ground,The Cheapest Materials to Build Your Coop Out of, and the Gardening E-book Library.
The Commitment
You are going to have to commit to following How to Build a Chicken Coop plan. Then you are going to have to take some time to buy your stock. It doesn't stop there though, as you now have the constant care of your chickens to keep them healthy so they will lay plenty of eggs. Also, don't forget you are going to have to go each day and gather the freshly laid eggs.
Evaluation
The real reason that you need proper plans for building a chicken coop is because of the different factors that you need to consider during the build. This all relates to what is the best type of environment for egg laying chickens. First you want to be sure that they are going to be contained properly so they don't end up roaming throughout the neighborhood. Then you want to make sure that it is going to be able to house the number of chickens you are wanting to get. It has to have the proper ventilation. You need to be able to clean it easily. Finally you want to be sure that you keep out anything that would want to harm the chickens.
Final How to Build a Chicken Coop Review
We're going to give the How to Build a Chicken Coop a Thumbs Up review. This is not a project where you can find a variety of plans for easily that are done so all the requirements are met. The other factor that we like about this offer is the bonus material that comes with your purchase. There is a lot of additional information contained in these that will help with not only the building of the chicken coop but the incidentals that go along with it.
Our Recommendation
If you really are intent on eating healthy then the best way to do this and really save some money is by growing it yourself, or producing it yourself such as you now can do with eggs by utilizing the How to Build a Chicken Coop. While saving on food is a big thing there are a lot of other ways that you can save money by taking on some other do it yourself projects. Entertainment is one of them, and in the past we talk about how easy it was to build your own boat, just as an example.
Official Website: How to Build A Chicken Coop
What do you think? Does How to Build a Chicken Coop work or not?