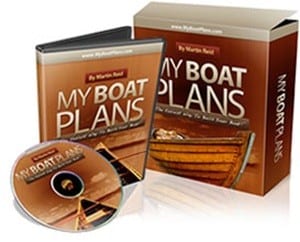 We are living in a world of "yes you can!", so if you are asking yourself if you really could build your own boat, then the answer is yes. You will need some strong advice and assistance though, and the My Boat Plans may be just what you need.
Overview
My Boat Plans is a collection of 518 step by step boat plans. It has been compiled by master boat builder Martin Reid. The package comes with not only the step by step plans, but 40 how to videos, photos for guidance,and software to help you with customizing your creation.
The Claim
The promoters claim that anyone can build a boat even if they have zero experience or knowledge. They are claiming that their "how to" material is super easy to follow and leaves out no detail.
The Hype
A lot of people would love to have a boat of some type, but just don't have the budget for it. They may not have even considered that this could become a DIY project. Yet the promoters are making it very clear that yes, you can do this. How elaborate or simple you want to go, will be your choice because you have plenty of plans to choose from. Most everyone will agree that building something yourself usually ends up being a whole lot cheaper than buying the finished product, and that includes boats.
The Cost
When you take into consideration what you will be getting, the price of $47. for the My Boat Plans package is a really good deal. Not only do you get what we outlined above but you get a whole bunch of bonuses. These include the Cad Design Software for Boats,Complete Boat Builder's Guide,Boat Building Secrets,Boat Safety Regulations Guide,and a special bonus of being able to join the members Q & A forum.
The Commitment
You are going to have to be determined that you are really intent on following through with your boat building plans. Don't just buy the My Boat Plans package, then flip through it and toss it in the drawer. You are getting a ton of information with your purchase so it may seem a little overwhelming at first. Take the time to go through it methodically before making the decision as to which is going to be your first project.
Evaluation
Anything that can help to save some money is usually a good thing. Money is tight for a lot of people and boating is an activity that so many people enjoy, but even renting this type of item can be costly. When an opportunity such as My Boat Plans come along it just might be the ideal solution for those who love boating.
Final My Boat Plans Review
We are going to give the My Boat Plans a Thumbs Up rating. It is definitely loaded with all types of resources and information. There is a good selection so surely the perfect boat plan that fits into the budget can be found. Boat building is a wonderful hobby in itself. The program is being offered by someone who has the experience and expertise. Being able to be part of a forum is an excellent resource and a great way of meeting other boat lovers and those who are venturing into their own boat building activities.
Our Recommendation
We encourage you that once you have completed your boat building venture, to branch out into other Do It Yourself projects. No doubt you will have built your confidence level with the success of your finished boat. Maybe its time for a new shed,or some other type of out building. If so, then no worries because you can continue on with your DIY experiences and check out the My Shed Plans.
Official Website: My Boat Plans
What do you think? Does My Boat Plans work or not?