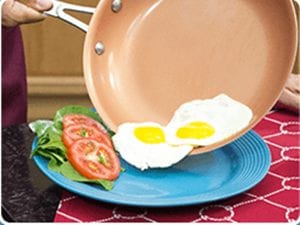 Anyone that is responsible for the family meals wants good pots and pans to work with. This means the non stick kind, so is the Gotham Steel Pan one that truly doesn't stick?
Overview
Almost all of us have bought at least what was promoted as a non stick pan only to be disappointed with it in a very short time frame. As soon as the non stick coating got scratched which was not hard to do , it became a nightmare to cook with. It also may be potential unsafe to cook with coated pans that have become compromised. So it means taking a real close look at the Gotham Steel pan which is touting the same non stick benefits. What is supposed to make this different is what it is composed of, which is ceramic and titanium.
The Claim
Now lets get some concerns out of the way. The Gotham Steel pan does not contain PTFE, PFOA, or PFOS. You can also use it in the oven up to 500 degrees and it is dishwasher safe. They are claiming that you can even cook those notorious foods that like to stick in the Gotham Steel pan with no problem.  The claims with the Gotham Pan isn't as sensational as cutting through a tin can with fairly inexpensive kitchen knives.
The Hype
One of the biggest factors is you don't have to use butter or grease to cook with which is a big health factor with a lot of people. Then there are those who really like being able to use it in the oven as well. Perhaps one of the biggest factors focusing around the hype is that you can use metal utensils on it and apparently it won't scratch.
The Cost
You can expect to pay $29.99 plus $6.95 shipping and handling for the Gotham Steel pan. If you add an extra $6.95 to your order you will get an omelet maker free. The pan is shipped directly from Canada, and if you want to add an extra #3.99 to your order you will get Insure Ship Insurance.
The Commitment
There really isn't much of a commitment to learning how to use this Gotham Steel pan. It really comes down to your cooking skills. Naturally you will want to follow any directions that come with it.
Evaluation
Modern technology is growing in leaps and bounds and this applies to the coatings that are now being used in cookware. Based on this we really can't stick with our opinions of those early use teflon type pans that we had to be so cautious with so we didn't damage them. We did notice a comment that Gotham Steel was a scam from an individual who said they ordered the Gotham Steel Pan which they didn't receive and that the website was now gone. Perhaps this was a misunderstanding as we were able to find the Gotham Steel Pan Canada site.
Final Gotham Steel Pan Review
We're going to give the Gotham Steel Pan a thumbs up review even though it is a new product. The price is reasonable and the components it is made with makes sense. We also like the fact it doesn't contain any harmful components. The only question we do raise is the handle doesn't seem to be protected, therefore most likely oven mitts will have to be used when handling this item.
Our Recommendation
Even though celebrity chef Daniel Green is endorsing this product don't make your buying decision based on this. Non stick pans is a product that we have reviewed a few times in the past. We talked about the Yoshi Blue pan which has equal ratings for and against.
What do you think? Does the Gotham Steel Pan work or not?