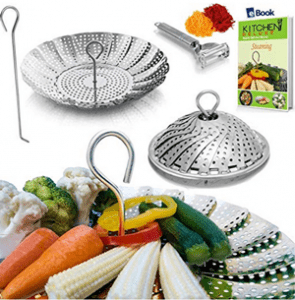 One of the healthiest ways of cooking today is steaming foods. Steaming keeps the colors vibrant and locks in most vitamins and nutrients. There are many types of steamers available today, but a stronger longer lasting one is the Premium Vegetable Steamer Basket.
Overview
The Premium Vegetable Steamer Basket is an expandable stainless steel vegetable and food steamer.
The Claim
The claim to the Premium Vegetable Steamer Basket is that by using this product, it entices people to eat more vegetables.
The Hype
The hype about the Premium Vegetable Steamer Basket is its multi-use capability.
The Cost
The cost of the Premium Vegetable Steamer Basket is $15.95 with a $1.00 off coupon. It is also available in size large for $20.95. There is a 2-tier version available for $9.95. And the best deal, the bundle for $39.95. The stainless steel vegetable steam basket comes with a lifetime warranty. It is 100% satisfaction guaranteed.
The Commitment
The commitment regarding the Premium Vegetable Steamer Basket and related products is deciding which product/products to purchase that would best suit your budget and needs. Doing a little research on all the products contained in the Bundle might be worth your while.
Evaluation
The Premium Vegetable Steamer Basket looks like an amazing product. As it comes with a lifetime warranty, you have nothing to lose in trying it out. This product features an extendable handle for safety and silicone feet to protect your pots. It expands and can fit in several different sizes of pots. It is convenient to store as it folds flat for storage. It is made of a premium quality stainless steel and will virtually last a lifetime. This vegetable steamer fits the new rave Instant Pot. It can fit into the 5, 6, and 8-quart sizes. It is also dishwasher safe. It can also be used for other foods like seafood.
Final Premium Vegetable Steamer Basket Review
We are going to give the Premium Vegetable Steamer Basket a thumbs up. This well made, easy to use, and store kitchen gadget would be a great addition to your kitchen. The Standard bundle comes complete with a bonus ebook about steaming cooking sent by email, ultra-sharp julienne vegetable peeler and insert for Instant Pot. This amazing product has received a 5 out of 5 stars rating from 83% of its customer reviews. This product is highly used by its customers, and everyone seems very happy with its abilities.
We would highly recommend purchasing the $39.95 Bundle to add an array of variety to your kitchen items. It contains the following items: Steamer Basket, Springform Pan, Egg rack and Bites Mold, Vegetable peeler, Icing smoother, slicer, Pastry brush, and four downloadable recipe books. What better way to expand your kitchen tool inventory, and at a great price. The stackable egg rack holds up to 14 eggs. All these accessories are easy to use, dishwasher safe, and are built to last. The vegetable steam basket, egg rack steamer, and cake pan, come with a lifetime warranty.
Our Recommendation
Something else you may be interested in is the BBQ Bake Bags.
What do you think? Does the Premium Vegetable Steamer Basket work or not?