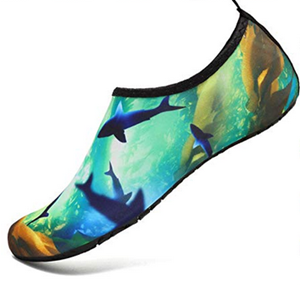 There are several bodies of water that can be difficult on the feet. A water shoe like Viffuur Water Sports Shoes would be a good idea to purchase.
Overview
Vifuur WaterSports Shoes are a quick-drying slip-on water shoe available for Men, Women, and children.
The Claim
The claim regarding the Vifuur WaterSports Shoes is that they are lightweight, breathable shoes that add protection while in the water.
The Hype
The hype about the Vifuur WaterSports Shoes is the fashionable multi-colors and designs they are available in.
The Cost
The cost of the Vifuur WaterSports Shoes is $11.88, plus shipping fees.
The Commitment
The commitment to the Vifuur WaterSports Shoes is ensuring you order the correct size for each person you are purchasing them for. Make sure you wear them on beaches and bodies of water that may be hazardous to your feet.
Evaluation
These amazing Vifuur WaterSports Shoes are so comfortable and fashionable they can be worn anywhere. They are great for boating, swimming pools, wake-boarding, fishing, cycling, jogging, and walking. They are also ideal for gardening, weight training, kayaking, windsurfing, and even driving. They are very flexible, comfortable, and are light in weight. These would also make a great indoor shoe to prevent slipping on ceramic or waxed floors and stairs as they have a rubber sole. When using as a water shoe, they dry very quickly to alleviate a wet feet problem. They are a slip-on style making putting them on and taking them off quite easily. They are constructed of a very soft breathable material for great comfort. They are available for children, women, and men in 9 different sizes. Some designs are unisex, and the whole family can have matching water shoes.
Final Vifuur WaterSports Shoes Review
We are going to give the Vifuur WaterSports Shoes a thumbs up. These are practical water footwear for all water sports. They are so fashionable you can order many different designs to coordinate with your wardrobe. Although there are mixed reviews on these water sports shoes, the highest rating in women's fashion. Many of the customer reviews state that you should order one size larger then you would normally take in shoe size. One reviewer had previously purchased Fitkicks and stated they fell apart, then purchased the Vifuur brand and was extremely happy with them. Reviewers have stated that these water shoes are meant for adults as opposed to children because children are much harder on shoe wear and they don't stand up.About the Vifuur WaterSports Shoes, we would recommend these for adults and not children. Although they are available in children's' sizes, they don't seem to stand up to rough wear.
Our Recommendation
If you have difficulty getting a comfortable fit with your shoes you may want to consider Walk Fit.
What do you think? Does Vifuur WaterSports Shoes work or not?
[kkstarratings_custom_footer]