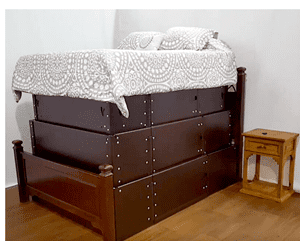 We live in a world of uncertainty when it comes to the weather. Every country has its fair share of adverse conditions throughout different times of the year. For the US it is about tornado season as well as other issues like floods. Manufacturers are now looking at ways to provide better protection for some of these situations, which brings the Vortex Vault to market.
Overview
The Vortex Vault is not something for storing your assets in like your money and precious documents. It is about providing extra protection for family members during precarious storms. It is an above ground storm shelter bed.It looks like a bed and is used as one but it goes far beyond this. In it's down position it looks just like any other bed. It can have headboards or footboards attached to it if one desires this.But, the big change comes with a push of the button which then raises the bed to 57 inches. This means that several people can now enter this storm unit for extra protection against a severe storm like a hurricane or tornado.
The Claim
The promoters of the Vortex Vault are claiming that this unit has been tested to withstand a EF5 tornado. The testing was conducted by Tech Wind Institute.
The Hype
The hype for the Vortex Vault really focuses around additional safety when a storm hits. These types of storms are becoming more frequent and there are people that are looking for solutions for extra safety measures.
The Cost
Currently the cost for the Vortex Vault starts at $2,400. Not including the cost of shipping or installation.
The Commitment
The commitment for the Vortex Vault by Life Systems is going to be making the decision to make this type of investment. But when you think about the high costs of high end beds now that are merely for comfort it doesn't make the price of this bed seem all that high.
Evaluation
Most would agree that those who live in storm regions especially may find the Vortex Vault to be a good investment. Also, with other regions now being hit with bad weather that didn't in the past they may want to consider it as well. Usually when a severe storm hits most families will head to the bathroom for shelter. If they don't have a basement. With the Vortex Vault it may provide better protection based on its testing. Also, quite often these storms happen at night. An individual may want to use the lower section of the Vortex Vault to sleep in during this time. Another purpose that this unit is being promoted for is a place for hiding during a home invasion.
Final Vortex Vault Review
We are going to give the Vortex Vault a thumbs up even though it is a new product to market. One of the things we like about it is that it doesn't require extra space. It takes up the same space that a standard bed would. So there is no need to build a separate storm shelter. The other factor is that it was on Shark Tank and eventually swung a deal there. The Shark Tank pros don't make deals on products that don't believe has some value.
Our Recommendation
We also have to remember that storms can upset some of our dogs. These dogs are highly nervous during a storm. A quick solution for this may be the Thundershirt.
What do you think? Does the Vortex Vault work or not?