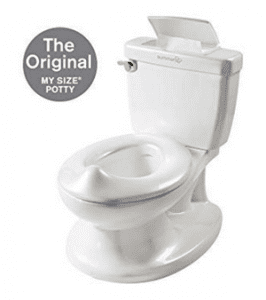 Toilet training children can be a relentless task. Some people use different style potties and others try seats that are placed on the toilet in the bathroom. The Summer Infant My Size Potty may be the answer for this sometimes difficult task.
Overview
The Summer Infant My Size Potty is a miniature replica of life size toilet to encourage children to learn how to get out of diapers and use the toilet.
The Claim
The claim of the Summer Infant My Size Potty is that it is child size and encourages children to become "big kids" by using a potty as opposed to diapers.
The Hype
The hype about the Summer Infant My Size Potty is that the potty looks exactly like the adult version of a toilet and makes the transition from potty to toilet much smoother.
The Cost
The cost of the Summer Infant My Size Potty is $24.86 on sale from the list price of $37.99. It is available in white and pink colors. It comes in packaging that reveals the item, however you can request Amazon packaging if ordering from them.
The Commitment
The commitment to utilizing the Summer Infant My Size Potty is to establish a potty time routine that your child can easily adapt to. Many children are routine-oriented and can learn quite easily. For health purposes keeping the potty clean and disinfected is very important.
Evaluation
The Summer Infant My Size Potty is a great innovative product to use as an aid in toilet training toddlers. It is great for toddlers up to 50 pounds. It even has flushing sounds like a real toilet to help get the toddlers used to using a real toilet. The product has a flip-up removable lid and bowl for easy cleaning. It also features a built-in wipe compartment teaching the toddlers to wipe just like using toilet paper. This, in turn, promotes healthy habits. It also features a splash guard for boys to prevent urine from going onto the floor. The flip up lid also allows boys to learn how to urinate standing up. The potty is very light in weight and only weighs 2.9 pounds. The lightness and size of the potty is perfect for travelling and can virtually be used anywhere.
Final Summer Infant My Size Potty Review
We are going to give the Summer Infant My Size Potty a thumbs up. This is a great product to use for toddler toilet training. Toddlers will feel a sense of reward when they are able to flush their own potty toilet. 80% of customer reviews have rated this product 4 out of 5 stars. Many reviewers have stated this is their absolute favorite training potty. Customer reviews indicate this product used as a potty training tool works amazingly. Toddlers like to feel grown-up and tend to mimic what their parents and siblings do. The only common complaint is the wipe holder. It is stated that it is far too small and that they have to manually stuff some wipes in it. It is not large enough to house a wipe container of any size.We would highly recommend the Summer Infant My Size Potty as a toddler potty training tool. You might want to check out the newer and improved versions like the Summer Infant My Size Potty Train & Transition with Removable Potty Topper.
Our Recommendation
It isn't just kids who may need a special type of potty. There are some that are specialized for adults too like the squatty potty.
What do you think? Does  the Summer Infant My Size Potty work or not?